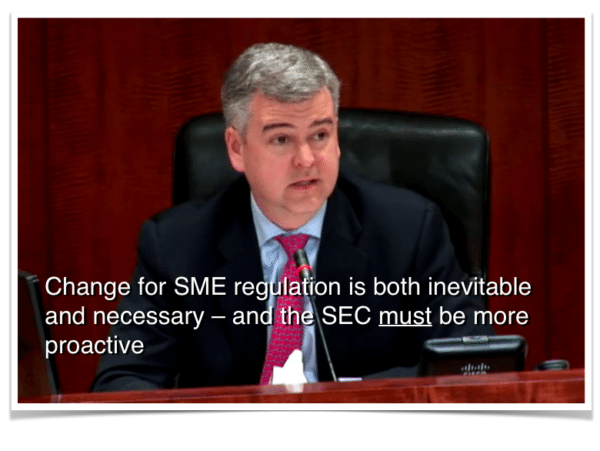 Having just read SEC Commissioner Daniel M. Gallagher's remarks at Vanderbilt Law School last Friday,  he may not be the only champion of smart regulation for small business capital formation.  But he is surely one of the most visible and important voices in this area.  Apart from being extremely well qualified in this area, never lacking in insightful thoughts and analyses – and a master of summing up important issues and ideas in a single sound byte – there is much more to be commended.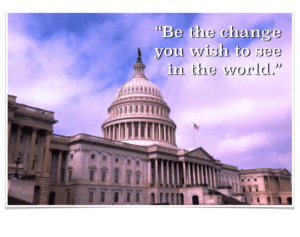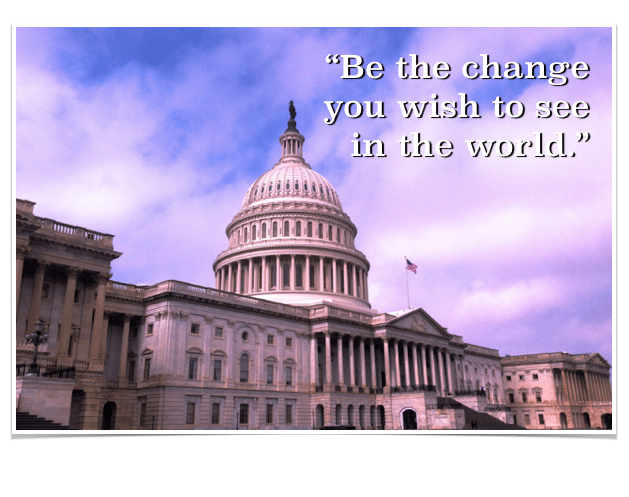 Though we often chide people for talking the talk, but not walking the walk, Commissioner Gallagher has been doing both when it comes to SME's and securities regulation – early and often.  Most importantly, he refuses to stay in the mold which too often defines the culture at the SEC.  In my opinion, it is the responsibility of the Commission to lead the way in considering ways to revamp our vast securities regulatory system –loudly and publicly . More often than not, when this happens it is behind the scenes, outside of earshot of the public – and in many cases the folks on the Hill – who are both necessary and willing partners of the SEC.  Commissioner Gallagher's brethren at the Commission are beginning to speak out publicly in a more forward looking voice – that change for SME regulation is both inevitable and necessary – and that the Commission must be more proactive. But more is better than less.  And in my opinion, the more the better.
Indeed this is one of the themes in an article I wrote in January 2014, first published in the Harvard Law School Forum on Corporate Governance and Financial Regulation, republished in Crowdfund Insider, entitled "Regulation A+ Offerings – A New Era at the SEC".  My views, stated then and there: many of the anomalies in the JOBS Act of 2012 might have been avoided if the Commission were more proactive in the legislative process which enveloped the revitalizing the 80+ year old regulatory scheme.  As the expression goes, if you don't have time to do it right the first time, how are you going to find the time to do it right the second time?
If Only Commissioner Gallagher Could Clone Himself.
Yet Commissioner Gallagher is providing us with the opportunity to share his vision and his ideas. For those of us who do not work at the Commission or have the opportunity to sponsor or vote on legislation, there is much we can and should do – and there is much more work to be done to revamp our securities regulatory framework.   All boats will rise with this tide: startups, investors, job seekers, entrepreneurs, consumers – to name a few.  There are even some crazy people like myself who believe that the way to bloat up the shrinking middle class in our country is to provide more efficient ways to channel much needed capital to those with good ideas – coupled with the willingness and ability
to implement them (are you listening, Senator Elizabeth Warren?). Indeed, the theme of my most recent missive, announcing a Webinar with the author of Title IV of the JOBS Act, Congressman David Schweikert,  echoed, that theme in the form of a question:  JOBS Act Regulation A+ Is Here. Now What?
The JOBS Act of 2012 is only the beginning of what I expect will be a promising future for capital formation for small and emerging businesses – and our nation's economy.  Commissioner Gallagher has provided a host of fresh ideas in his most recent remarks. And he has given credit to others who have aided him in his mission, including David Burton of the Heritage Foundation – and even citation to two articles first published in Crowdfund Insider – one by yours truly – the other by the ubiquitous, but mysterious JD Alois – the man behind the curtain.  So view the Commissioner's remarks as both an invitation and an opportunity to join in the conversation and roll up your sleeves.  No single person can move the needle – but a "crowd" of voices, properly pitched can.
It is time for the crowd to roll up their sleeves and sharpen their keyboards.  Commissioner Gallagher's remarks are the perfect starting place. And well worth reading – a few times.
---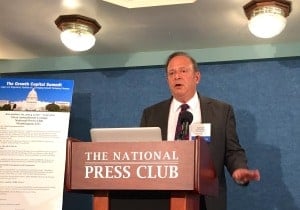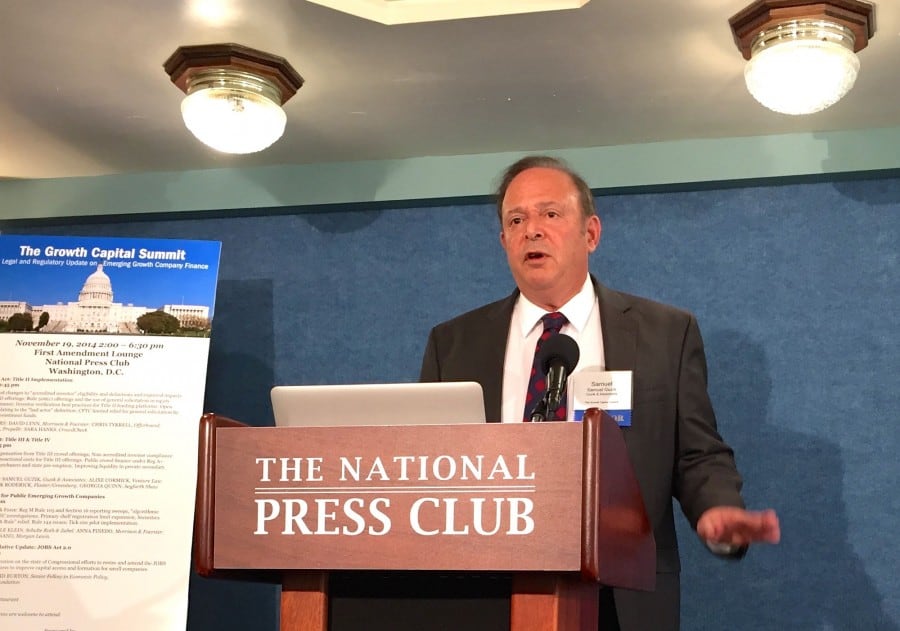 Samuel S. Guzik, a Senior Contributor to Crowdfund Insider,  is a corporate and securities attorney and business advisor with the law firm of Guzik & Associates, with more than 30 years of experience in private practice.  A nationally recognized authority on the JOBS Act, including Regulation D private placements, investment crowdfunding and Regulation A+, he is and an advisor to legislators, researchers and private businesses, including crowdfunding issuers, service providers and platforms, on matters relating to the JOBS Act. As an advocate for small and medium sized business he has engaged with major stakeholders in the ongoing post-JOBS Act reform, including legislators, industry advocates and federal and state securities regulators. In 2014, some of his speaking engagements have included leading a Crowdfunding Roundtable in Washington, DC sponsored by the U.S. Small Business Administration Office of Advocacy, a panelist at the MIT Sloan School of Business 2014 Crowdfunding Roundtable, and a panelist at a national bar association event which included private practitioners, investor advocates and officials of NASAA. His articles on JOBS Act issues, including two published in the Harvard Law School Forum on Corporate Governance and Financial Regulation, have also served as a basis for post-JOBS Act proposed legislation.  Recently he was cited by SEC Commissioner Daniel M. Gallagher in a public address for his advocacy on SEC regulatory reform for small business.   He is admitted to practice before the SEC and in New York and California. Guzik has represented a number of public and privately held businesses, from startup to exit, concentrating in financing startups and emerging growth companies.  He also frequent blogger on securities and corporate law issues at The Corporate Securities Lawyer Blog.