With nearly a week until their Con Man crowdfunding campaign comes to an end on Indiegogo, FireFly co-stars, Alan Tudyk and Nathan Fillion has successfully raised nearly $2.7 million for their new television show. Now, the fan favorite duo has unveiled a new funding goal, along with a surprise for the backers: A Con Man game!
The show is about actor, Wray Nerely (Tudyk), who was on a science fiction show called Spectrum, that was canceled too soon, and now he goes to conventions, to sign head shots, meet fans and do panels.
Fillon's character, Jack Moore, who was the captain of the spaceship on Spectrum, has gone on to incredible action-hero stardom, like Matt Damon. Tudyk's character grows frustrated with his situation and Jack's stardom. The audience follows Wray's story as he goes to the conventions and does video game voiceovers.
During a recent update, the Con Man crew stated:
"We are extremely excited to share our next stretch goal. The Con Man Game!

You get to host the greatest comic book convention ever! As an ambitious convention planner, expand your con by inviting celebrities and setting up attractions, all while fending off comic book villain invasions and collecting tons of swag, such as limited edition comics, pins and DVDs. Use your earnings to customize your con and build your very own geekdom paradise!

The Con Man team is proud to be partnering with Frima Studios, a leading, independently-owned, digital entertainment studio. Since 2003, the company has been developing world-class media on all platforms, including Web-based games, console titles and mobile apps. Among the 500+ games they produced over the last decade, some of their greatest successes include:

• LEGO Bionicle: Mask of Creation, the app that spearheaded the revival of LEGO's flagship Constraction product.

• Chariot, Frima's quirky co-op platformer game about a princess tasked to find the perfect resting place for her father's royal remains.

• Skylanders: Spyro's Universe, Activision's online virtual world.

As big Con Man enthusiasts Frima is totally psyched about this project!"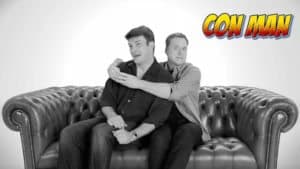 The team noted that Con Man Mobile Game will be made for both iOS and Android Platforms and will be free for everyone, with exclusive in-game perks for all funders.
Also released in a recent update is a deleted scene from the Indiegogo video. Check out the clip below!
Have a crowdfunding offering you'd like to share? Submit an offering for consideration using our Submit a Tip form and we may share it on our site!