While most backers have to wait in anticipation for their Kickstarter-backed card game, Exploding Kittens, its creators, The Oatmeal's Matthew Inman along with Xbox's Elan Lee and Shane Small, have decided to give fans of the already popular game a chance to try it out and offer some input.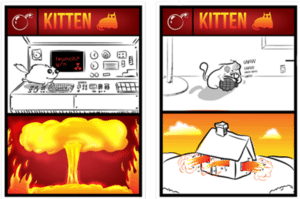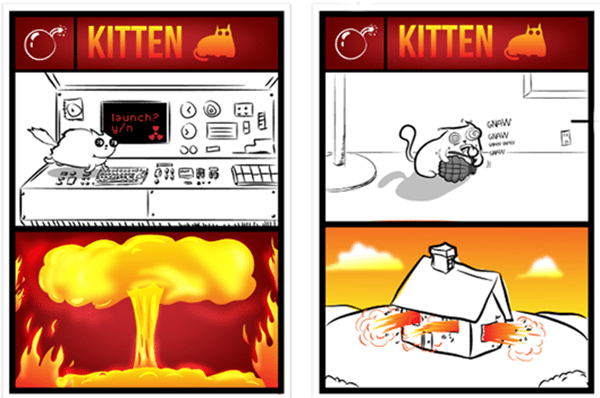 Exploding Kittens is a highly strategic kitty-powered version of Russian Roulette. Players take turns drawing cards until someone draws an exploding kitten and loses the game. The deck is made up of cards that let you avoid exploding by peeking at cards before you draw, forcing your opponent to draw multiple cards, or shuffling the deck. The game gets more and more intense with each card drawn because fewer cards left in the deck means a greater chance of drawing the kitten and exploding in a fiery ball of feline hyperbole.
According to Canada's Global News, Lee, Small and Inman put the power in the hands of the game's backers and asked them to give some feedback before the final version's summer release. Seven Canadian cities were selected to participate in the game playing experiment.
Emily Smith of Geektropolis, Toronto's Geek Culture Community that hosted a playtest party at Ryerson University, stated:
"I think people are having a lot of fun with the nastiness. From the suggestions I've heard so far, they could even make it even a little bit nastier and that would make it even better."
Smith also shared she received feedback from players centered around the rules, which the creators fully admitted they need assistance with:
"They want to make the rules as small as possible so they fit in the box, but also make it easy enough for people to play. And I think there are a couple of things that probably they should add, even if it does make it a little longer, just because I had the same questions a few times."
Mary Zhao, one of the participants of the playtest, revealed her thoughts about the project:
"I mean, we're talking about kittens. We're not building empires or anything like that… it's just fun and brings together a bunch of people."
Have a crowdfunding offering you'd like to share? Submit an offering for consideration using our Submit a Tip form and we may share it on our site!