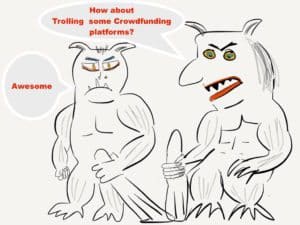 The embedded video below is courtesy of the team at Engine.is, one of advocacy groups battling the issue of patent trolls.  Last week the FT highlighted one of the challenges with the debate as it contrasted the opposing perspectives of the tech industry with research universities. The convoluted and, at times, confusing issue is distilled down into an 11 minute rant by John Oliver that is absolutely hilarious.
Earlier this year multiple crowdfunding platforms, including Kickstarter, Indiegogo, CircleUp and more, were hit with patent infringement lawsuits by a company called AlphaCap Ventures.  Go ahead and click on the page – it does not load for me, perhaps you will have better luck.
Patent trolls cost the economy billions of dollars each year in lost productivity and spurious legal costs. These trolls control patents not to create or develop something new but to wait in the shadows until someone actually attempts to create a business that may overlap on their claim – and then they pounce.  East Texas has created a cottage industry for patent trolls by maintaining a "reputation" for being plaintiff friendly.  Great economic model.
A bill was entered into the legislation process last year in Washington, DC. Quickly approved in the House the bill died in the Senate. Why ask you? The special interest group known as "trial attorneys" have (or had) many friends in the Senate that were willing to help out. Perhaps 2015 will be different? We will find out.