Back in October of 1985, Orson Welles, an American actor, director, writer and producer, passed away from a heart attack. The Hollywood star not only left an amazing legacy, but his final project, which has been left uncompleted and unnoticed.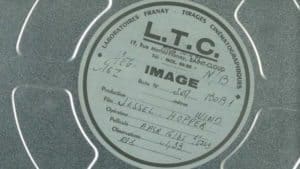 Now just thirty years later, three producers, Filip Jan Rymsza, Jens Koethner Kaul, and Frank Marshall have teamed up to launch a Indiegogo campaign to bring Orson Welles' final film, Other Side of the Wind, to life.
Sharing details about the project, the producing trio wrote:
"After years spent working in Europe, Orson returned to Hollywood intent on making a film about filmmaking, but managed to hit an obstacle at every turn and, although he finished shooting it, he did not finish editing and the film was never released.  The film is the epic story of legendary film director J.J. 'Jake' Hannaford, played by the equally legendary John Huston. In the film, Jakesets out to make his own career re-defining film.

"Orson said that the film '(was) not autobiographical,' and he revised the script daily on set. It was shot on a mix of 35mm, 16mm, and 8mm formats in both color and black & white."
Also explaining why the film has never been finished, the producers stated:
"The origin for the story dates back to a brawl between Ernest Hemingway and Welles in 1935, during the recording of Orson's narration for a Spanish Civil War documentary. Inspired by the interaction, Orson began to craft a story of an author in decline. As the years passed, the character would change from an author to a filmmaker.

"Originally self-financed, Welles later turned to a mixture of financiers (German, Spanish and Iranian) to complete the film.  Things turned for the worse when a producer absconded funds and the Persian revolution complicated the Iranian investors involvement.

"Orson came to an eventual impasse with the Paris-based, Iranian investor.  During that time potential resolutions came and went, and new financiers came and went, but Orson was never given the chance to fulfill his own vision of the film. Taking admittedly mediocre acting jobs in film, television and in commercials to help finance his attempts to finish the film, Orson would spend the very last years of his life battling to regain full control of The Other Side of the Wind."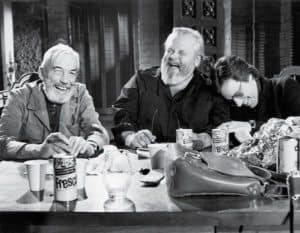 While discussing the film and crowdfunding, Rymsza told the Hollywood Reporter:
"Had [crowdfunding] been around, Orson would not have had the problems he did. He was always trying to keep control."
Author of the recently published Orson Welles's Last Movie: The Making of The Other Side of the Wind, Josh Karp, added:
"Orson left Hollywood for Europe in the late 1950s, after his famous dispute with Universal over the final cut on Touch of Evil. [That caused him] to miss his eldest daughter's wedding, so he could write a passionate 58-page memo, meticulously detailing how the film could be finished." Afterward Welles decided he could no longer work within the studio system, whose executives, he said, had "no madness to their method.

"It's the story of a legendary director who's fallen out of favor in Hollywood and has just returned to make his own comeback movie. The film is shot documentary-style, but there's also a film-within-the-film, which is the one the director is making, and that's done like mock-Antonioni, beautifully shot and filled with meaningless symbolism. You've got a story that immediately is bizarre: Welles has just returned from a decade in Europe and is making an innovative, comeback movie, about a guy who's making an innovative comeback movie, after being in Europe for 10 years."
Starring in the film are John Huston, Peter Bogdanovich, Oja Kodar, Lillie Palmer, and Dennis Hopper. Those who back the project will receive various awards, including digital download version ($30), limited edition 12×18 version of the poster ($40), Blu-Ray or DVD ($50), and coffee table book ($100).
Since its launch on Wednesday, the campaign has successfully secured over $30,000 from nearly 250 backers. It is set to close on June 15th.
__________________________________________________
Have a crowdfunding offering you'd like to share? Submit an offering for consideration using our Submit a Tip form and we may share it on our site!