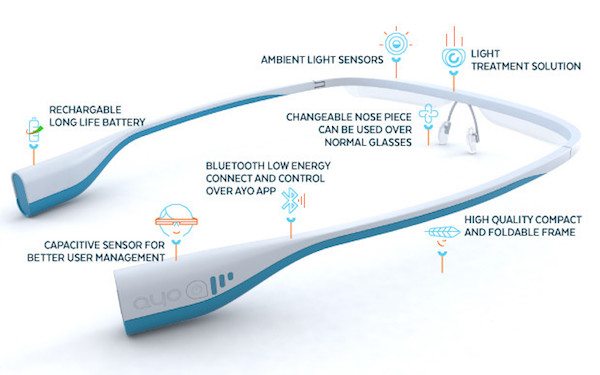 Novalogy, a wearable tech company, unveiled AYO, an advanced, scientifically backed wearable device which uses clinically backed lighting technology to actively improve sleep, increase energy levels and minimize jet lag. In tandem with its U.S. debut at Wearable World Congress 2015, an Indiegogo crowdfunding campaign has launched to bring the light-based, energy-boosting wearable to market. All funds will be used to accelerate the development of the unique AYO design — comprised of sleek, Bluetooth-connected eyeware, featuring sophisticated biological lighting, paired with an intuitive, customizable mobile app.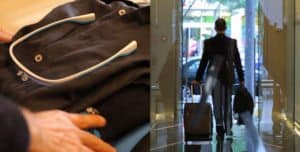 According to the company, contemporary lifestyles and indoor work environments have led to imbalanced hormone levels in many people due to lack of natural sunlight and exposure to artificial light for extended periods of time. This can result in lack of energy, sleep disorders and can even have serious negative effects on long-term health, including heightened risk of obesity, diabetes, cardiovascular issues and cancer.
It was noted about by wearing the AYO device for just 20 minutes a day, users can experience increased energy and improved hormone levels through the innovative use of safe and natural Blue Light treatment. Frequent travelers can finally beat jet lag quickly, feeling fully refreshed no matter what time zone they happen to be in. AYO's mobile app measures and tracks energy levels over time, and its algorithms calculate the best time and duration for regular activities such as exercise, meals and sleep.
Professor Bert van der Horst, Chairman of Health and Chronobiology, Erasmus Medical Center, revealed:
"AYO is the first step in the personal adjustment of internal bodyclocks. It will help us to improve our lifestyle, to remain healthy and to keep the doctor away."
b CEO at Novalogy, added:
"Waking up early in the morning should happen naturally and travel should be enjoyable, not exhausting. AYO combines state-of-the-art technology, innovative thinking and scientifically proven methods to optimize circadian rhythm and balance the user's master biological clock for a healthier, happier and more active life."
___________________________________________________
Have a crowdfunding offering you'd like to share? Submit an offering for consideration using our Submit a Tip form and we may share it on our site!