Setting out to be the next big thing for virtual reality industry, California startup FOVE hit Kickstarter with a mission to raise $250,000 with its new self-titled device. Within only two days, FOVE's initiative surpassed the initial goal and has since secured over $325,000 from nearly 900 backers.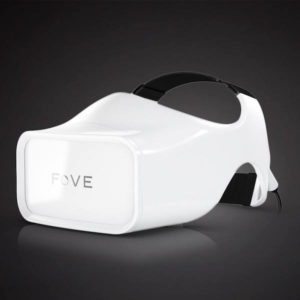 The description of FOVE reads, "Immerse yourself in virtual worlds that react to your eyes and emotions. Experience precision control at the speed of thought." With the device, users can do the following:
Aim With Your Eyes: Simply target, aim and shoot with true line-of-sight targeting
Focus Your Vision: View realistic scenery that blurs and sharpens, reachting to where you are focusing.
Make Eye Contact: Look, laugh, and communicate with virtual characters just like in the real world.
Move Naturally: Tilt your head to reduce simulation sickness by reducing the need for unnatural head movements.
It was noted that auto-target with a glance and initiate contextual interactions. The team shared that while users have the device on, their characters react when they make eye contact. Game play can be "much more conveyed" in a glance than ever before. Users can watch characters behave and reach differently while they are being watched.
Also revealing how they created FOVE, the team explained:
"Our SDK seamlessly integrates content from Unity, Unreal Engine, and Cryengine. You'll be able to easily port your existing VR content into our ecosystem and make incredible games from day one."
FOVE's features include:
Convert titles quickly quickly with easy conversion
Add eye tracking to existing content
More graphics power with foveated rendering (in progress).
Power C++ API with C# (mono) wrappers
Hands-on support with tutorials, sample code, and FOVE forum (in progress)
According to TechCrunch, the upcoming feature "foveate rendering" means FOVE's graphics engine figures out what the user is looking at and then concentrates on rendering power in that area so it will appear in high resolution. Co-founder and chief executive officer of FOVE, Yuka Kojima stated that conserving rendering power means that the new headset can be used with range of devices besides PCs.
FOVE's headset is scheduled to be delivered to Kickstarter backers as early as May 2016, Kojima stated that the company plans to use the funds raised through the campaign to refine its eye-tracking technology that it well for everyone, regardless of the shape of eyes or face.
The campaign is set to close on July 4th.
____________________________________________________
Have a crowdfunding offering you'd like to share? Submit an offering for consideration using our Submit a Tip form and we may share it on our site!