Ready to unveil his latest project, ex-Guns N' Roses bandmate, Slash, has launched a crowdfunding campaign on FanBacked to raise funds for his new horror film The Hell Within.
According to its description, The Hell Within, which was written by Midnight Meat Train's Jeff Buhler, follows a woman from New York on a quest into the heart of the Brazilian jungle to save a missing girl, only to discover that the child was just the beginning. The synopsis reads:
"Marie and her husband David live a charmed life in Manhattan.  He's a successful environmental attorney and she's built an international aid organization that helps families in need across South America. The only thing missing is a child.

"When they start receiving disturbing phone calls from Teresa, a young girl in Brazil pleading for help, Marie can't shake the feeling these calls are connected to her charity. She convinces David to travel with her to Rio to locate the missing girl and soon a series of strange events and a shocking suicide lead them into the heart of the jungle.

"Marie and David find themselves isolated in Seringal, a village overrun with drug runners and lost souls, steeped in ritual and superstition.  And as David falls ill to a mysterious disease, Marie begins to realize that the missing child was only the beginning of The Hell Within."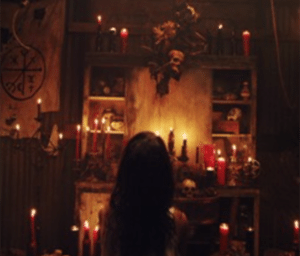 While sharing details about the project, Slash stated to Entertainment Weekly:
"Well Jeff wanted to keep the basic story under wraps. I said 'What am I going to tell people?' He says, 'Tell them it's Rosemary's Baby in the jungle.' I thought, Yeah, that's actually pretty good."
Also noting why he decided to use FanBacked for the project, the rocker noted:
"Well, I have a big fanbase and we have very similar tastes — obviously in music, but also in horror. The reason I got into the whole production thing in the first place was to try to bring back story-driven and character-driven scary movies that weren't reliant on blood and guts to get all their shock and awe. I thought it would be great if we brought fans on board and developed the movie, in a sense, together.

"Obviously, I'm making the movie, but you actually feed fans bits of what's happened, you get some opinions, and build this army, you know? [Laughs] I thought it would be fun and at the same time if anybody wanted to contribute finances we would be able to give them rewards, anything from the script of the movie to being an extra. Becasue the other thing that I want to do is to be able to finance the movie, raise as much equity myself, so I don't have anybody looking over my shoulder. I want artistic control over the final product."
In regards to lessons he learned from his last film project, Nothing Left to Fear, Slash added:
"I learned a lot. I feel [producing] is something that speaks to me. It's in my comfort zone. Getting the components together, as well as the finances, to make the right kind of movie. That intrigures me. But I think if there was ever a time when I could be intimidated out of wanting to do that [it was making] Nothing Left To Fear. I mean, I learned how many cooks in the kitchen there are, how many people you wind up having to answer to, and how hard it [is] to raise the money, and how hard it is to keep artistic control over the entire film during the entire process."
________________________________________________
Have a crowdfunding offering you'd like to share? Submit an offering for consideration using our Submit a Tip form and we may share it on our site!