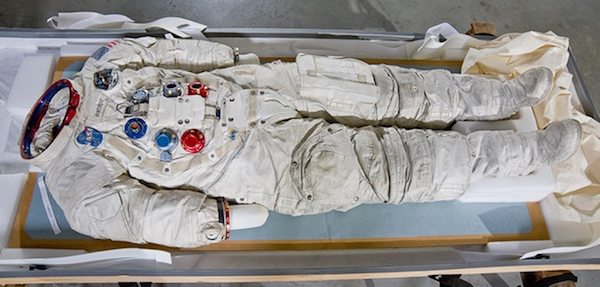 Continuing to gain more support for its Neil Armstrong spacesuit project, the Smithsonian has successfully raised nearly $600,000 on Kickstarter thanks to over 7,500 backers. The project hit the crowdfunding platform last week with a mission to raise $500,000 to bring the famous spacesuit back to its former glory.
The description of project reads:
"July 2019 marks the 50th anniversary of the Apollo 11 Moon landing, a feat so breathtaking in its scope and ambition that it captured the collective imaginations of audiences around the world. At the Smithsonian's National Air and Space Museum, we use the power of real objects to tell stories like this one – stories of the vision, intellect, and courage of men and women who have overcome challenges and pushed boundaries to take the next giant leap for humankind.

"For the Smithsonian's first-ever Kickstarter campaign, we are proud to announce plans to conserve, digitize, and display Neil Armstrong's Apollo 11 spacesuit in time for this milestone anniversary. We want to preserve Armstrong's spacesuit – and the story it tells of its incredible journey – down to the particles of lunar dust that cling to its surface. Just like the Apollo program, we will accomplish this in collaboration of thousands of people across the country and around the world."
Within less than a week, the project surpassed its initial goal. In the most recent update, the campaign organizers wrote:
"Thanks to each and every one of you who have backed this project and told your friends about it. Thanks for viewing the videos we've been sending out into cyberspace. Thanks for reading and watching the news stories of "Lisa and the suit." Thanks for all your comments and messages. We read each and every one of them, and we've been moved by so many of them.

"You've told us how the Moon landing is a shared moment – a reminder of a lost time with those you have loved, and we are touched you've made your pledges in honor of  them. You've told us how much you believe in this endeavor, which makes everyone believe in it even more."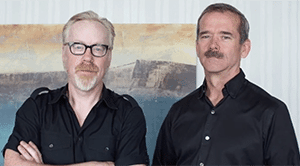 The team also unveiled new backer rewards, including posters and t-shirts.
The Smithsonian also caught up with astronaut Chris Hatfield and Mythbusters' Adam Savage to see what they thought about the project. Check out their response below.  
Have a crowdfunding offering you'd like to share? Submit an offering for consideration using our Submit a Tip form and we may share it on our site!