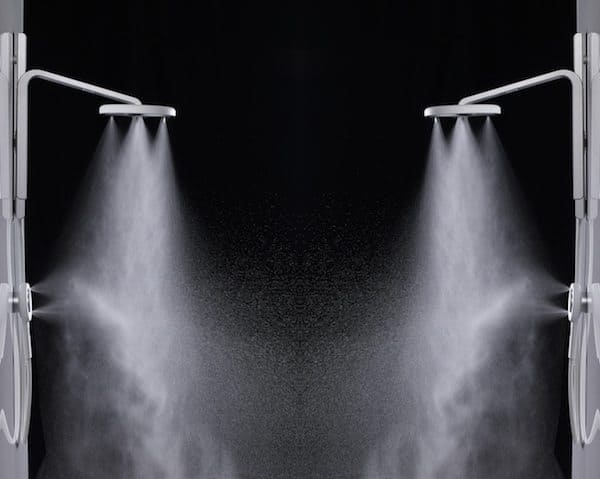 On Tuesday, San Francisco startup Nebia hit Kickstarter with a mission to raise $100,000 for its high tech showerhead.  That first $100K took just 8 hours but the velocity is accelerating on this crowdfunded product.
The Nebia Shower is a shower head that you can install yourself.  The system claims to create a shower like you have "never experienced before." The company explained its engineering hardware:
"Nebia atomizes water into millions of tiny droplets with 10 times more surface area than your regular shower. With Nebia, more water comes into contact with your body, leaving your skin clean and hydrated all while using less water than a typical household showerhead. In fact, Nebia uses 70% less water than a typical household showerhead. For the average U.S. home, Nebia pays for itself in less than two years.
"Nebia embraces you the moment you step into your Nebia shower. A warm and cozy mist hugs your skin, providing more than enough water to get you clean and feel refreshed. The Nebia sensation stays with you long after you leave your shower. For hours after finishing your shower, you feel rejuvenated. Your skin feels cleansed and refreshed. Your hair shines. Your muscles relax. There is no better way to start your day.

"We have been working on Nebia for nearly 5 years and we have developed numerous iterations and prototypes. Along the way, we adopted technologies from aerospace engineering to optimize every aspect of our shower nozzles and to create our H2MICRO technology. The result is a patent-pending breakthrough is an industry that has fostered remarkably little innovation in over a century.
In California has been enduring a severe drought for years now. Offering a shower experience that is better, and uses less water, is something that is connecting with West Coast consumers (and probably more than a few around world). It took only a few hours to blast past the $100,000 goal and stands at almost $600,000 now. It doesn't hurt to have big name, tech superstars like Apple CEO Tim Cook and Google Chairman Eric Schmidt on the list of investors too (co-founder Gabriel Parisi-Amon previously worked in supply chain management for Apple alongside Cook).
Nebia's features include:
The Head: built from a high-density polymer with thermoplastic polyurethane (TPU), delivers the perfect frame to nest the H2MICRO nozzles. With head rotation up to 45°, the head creates a whole new degree of versatility. The head was designed with all hair types in mind, and pet hair included.
The Bracket: Made of anodized aluminum, the bracket rigidly attaches to your water supply and adheres to your wall, secured to the wall without breaking your bathroom tile. The Bracket houses an internal channel through which water flows to the head and the wand. It is elegant yet incredibly wear resistant.
The Arm: Slides 27 inches up and down the Bracket to optimize and customize the spray pattern to your body shape and size. In other words, Nebia was built to accommodate everyone from basketball players to children.
The Wand: Ergonomically designed, has just the right heft and grip. Paired with the dock, it gives you a portable dimension of water and that extra spray of pure pleasure.
Wendy Schmidt, president of the Schmidt foundation, announced in a statement:
"Nebia's showering technology has the potential to be transformative. It's innovative and elegant, and can also have a significant impact on water use — not just in California, where we're experiencing a severe drought — but around the world where fresh water resources are limited."
The showerhead may be purchased through the campaign for the price of $279 (retail will be $399).

This one is going much higher. The project is set to close on September 11th. Ships May 2016.

___________________________________________________

Have a crowdfunding offering you'd like to share? Submit an offering for consideration using our Submit a Tip form and we may share it on our site!

Sponsored Links by DQ Promote