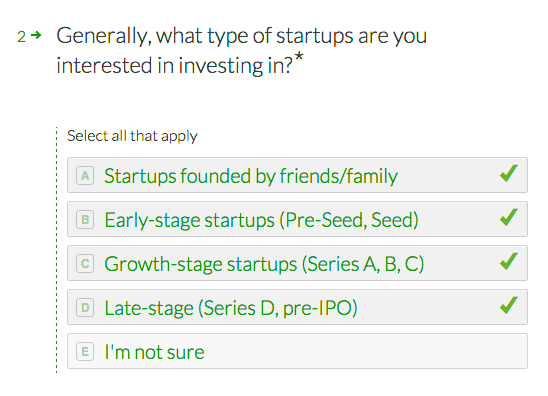 Most people are not even aware there is a dividing line between who is allowed to invest in pre-IPO companies and who may not. A travesty of rule making, today investors are measured by the size of their bank account – and not the caliber of their education nor acumen. The disenfranchisement is profound as only a small percentage of the population may participate in pre-IPO companies creating a segmentation of society that is incredibly elitist (and simply wrong). Yet the rules paradoxically persist and is even supported by some policy makers.
Quire (formerly known as Alphaworks) has partnered with mattermark, to launch an anonymous survey about investing in startups.  The questions are pretty straightforward. Would you have like to have had the option to invest in UBER (before it became a multi-billion mega Unicorn)?
Quire appropriately highlights the issue that, "Laws created [long] ago prohibit most Americans (nearly 97% of households) from investing in private companies because they aren't "accredited." The laws have had a deteriorating effect on our economy, and prompted Congress to pass the JOBS Act in 2012".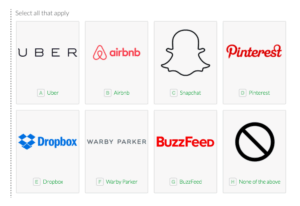 Much wealth has been generated by wealthy (accredited) individuals who possess the option to invest while the masses are forced to sit on the sidelines and watch.  Sure, investing in early-stage companies is risky, but data shows that a diversified portfolio in young companies can generate outsized returns. Today, most promising SMEs stay "private" as long as possible as they want to avoid the costly, and time consuming, regulations that have become a bit too extreme. The impact has been debilitating as the IPO market in the US has declined. Dramatically.

Title III of the JOBS  Act was created, in part, to allow retail investors access to early stage funding rounds. Retail crowdfunding was legalized in 2012 but final rules remain elusive as the policy mandarins have been slow to effectively allow small companies to raise capital under the new exemption. Currently there is new legislation that is making the rounds on Capitol Hill which may address this glaring omission.  Or perhaps the SEC will decide to release workable rules before the end of the year.

In the interim, please take the Quire survey. And then send a nice thank you note to your elected officials for keeping such a keen eye on your well-being by creating two classes of investors…

Sponsored Links by DQ Promote