TipsyPud has launched an equity crowdfunding campaign on Crowdcube to raise £85,000 to expand its UK-based pudding company.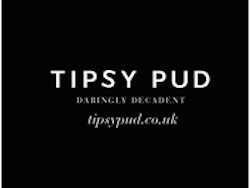 Started by entrepreneur, Lucy Anderson, the TipsyPud Indulgence Collections are aiming to take the growing £5billion UK gourmet food and gift markets by storm. The company shared:
"Deliciously naughty, The TipsyPud Indulgence Collections gift packs are set to take the  UK gourmet food and gift markets by storm. At the  heart of every  gift is the TipsyPuds, which give every  'Collection' a unique selling point and creating the  gift of 'something different' people are looking for. Creating the TipsyPud Indulgence Collections combines gifts that  straddle both the  chocolate, food and elegant drinks markets – what  more could you want!

"The gift market is worth £5billion and is vibrant and growing, with an expected 50% growth within the  luxury sector during 2015 – our target market. With more and more people searching for the  perfect gift, the  Indulgent Collections, all beautifully packaged with a nod to the  elegance and decadence of the  1920/30s provide a very large dash of sophisticated fun.

"The Indulgent Collections will be sold  by the  end of the  year  on our own e- commerce platform along with a 'third party' sites  such  as 'Not on the  High Street.com' and in selected luxury food halls and venues such  as Fenwick."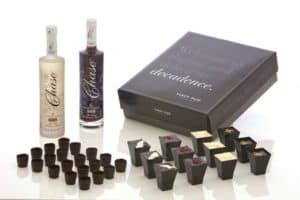 It was noted that in the heart of each gift box of TipsyPud are edible cocktails within a dessert. These are made using the spirits from a range of cocktail ingredients and infusing them through the layers of each dessert. The company noted:
"Deliciously naughty indulgence, perfect as an aperitif, alternative to a drink  or a sumptuous dessert. Tipsy Pud lends itself to all situations where you would enjoy a tipple or sit back and indulge on a sweet treat."
Also explaining what its 'Indulgence Collections' are, the TipsyPud team shared:
"Our gift range is named 'The Indulgence Collections'. They are a modern take on a traditional hamper, with TipsyPud at the  heart of each box. A stylish, chic and elegant presentation box, each filled with smaller boxes containing complementary products with 'bubbles' such as Champagnes to Prosecco and also some delightful liqueurs to be served in edible chocolate shot  glasses for extra fun but with sophistication. Each box  will create a moment of surprise, excitement, indulgence and fun. The perfect present for someone you aren't sure what  to buy and a fantastic alternative to flowers.

"Each 'Collections' you will have six layers  of reveals before realising what everything is. We have something for every  budget, and our edible chocolate shot glasses provide something really different that  you can share. To enhance the celebration and shared fun experience we always urge people to pop it all in their mouth, filled with the  dessert liqueurs so they eat and drink at the same time and if they dribble a little it just adds to the whole occasion!

"We also have within the  range a box  specifically designed to be given to small groups of people (up to 12) which is a fantastic gift for a small team of people to share, a soirée or dinner party. We have seven to choose from and an eighth being developed, which range in price from £35-200 depending on the  value  of the  contents."
During a recent interview with BDaily, Anderson revealed:
"It has been a long journey to get where we are now with many ups and downs along the way, but when I look at the end products I know it has all been worth it. The challenge now is to attract the investment we need to help us launch TipsyPud nationally. The beauty of this platform is people can invest as much or as little as they want as every little contribution helps.

"I often invest on CrowdCube myself. I think it is a great way to make an investment and help new start-up companies. The traditional investment routes are often chicken and egg scenarios because you need to get to a certain point to obtain the money you need, and the smaller funding programmes are no good because you need more than they can give you.

"I have had so much help and support from the business community in the North East, from advice and introductions to people offering reduced cost services because they believe in me and the products I have created."
Funds from the Crowdcube campaign will go towards completing the e-commerce platform, support other sales channels and marketing support costs along with a small amount for working capital.
The campaign is set to close at the beginning of October.
_____________________________________________
Have a crowdfunding offering you'd like to share? Submit an offering for consideration using our Submit a Tip form and we may share it on our site!