Giftfund, a free crowdfunding gifting application, is now available for iOS andAndroid devices. Giftfund is the solution for the more than 65 percent of consumers that are interested in a totally mobile path to purchase.

The app allows users to easily contribute money toward joint gifts, making the purchasing process simple, fun and rewarding. Perfect for friends, family and colleagues, Giftfund provides thousands of gift options, making any gift possible – no matter the occasion.
Mel Basar, founder of Giftfund, explained:
"Last year, when organizing a group gift for a friend, I found the process of confirming who's in and who's out, collecting contributions, and ultimately purchasing and shipping the gift difficult and time consuming. Giftfund simplifies this process, enabling the giftee to receive that one dream gift instead of a bunch of smaller, individual gifts, making it hassle free for everyone involved."
After downloading Giftfund, users can easily select and purchase the perfect gifts by following a few simple steps:
Create a Giftfund: Log on to the app and create a unique Giftfund for any occasion such as a birthday, graduation, wedding, baby shower, holiday or just because. Users can even create a Giftfund for themselves and include gifts that are on their wish list. Each Giftfund includes information about the occasion, the deadline for gifting and a messaging function that allows contributors to communicate with one another.
Search Gifts: Use Giftfund's in-app search function to scan thousands of products and find the best gifts, filtering by keywords and price range.
Invite Friends: Send an invite via text or email to any contact from within the app or simply share the unique ID number for the Giftfund to grant others access to a particular Giftfund. Users can contribute the amount desired and have the option to contribute anonymously.
Give: Once the Giftfund ends, the planner selects which gifts to purchase based on funds raised. Gifts are then shipped within days to the giftee, along with a gift receipt and special code to see a full list of contributors. Any additional funds raised during the Giftfund are sent to the giftee as an Amazon gift card.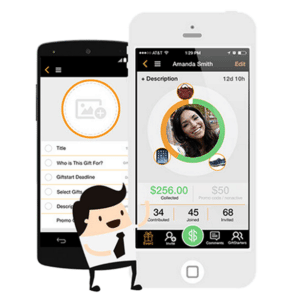 Giftfund will notably make mobile holiday shopping even easier by offering a single place to create a holiday wish list, shop for loved ones, and bring family members together to buy grandma the gifts she's always wanted – all in the palm of your hands.
Basar added:
"During the holidays, we all struggle to find the best gifts for someone whether we're braving the mall or shopping from our cell phones. We hope our new app can take some of the stress out of holiday gift giving and allow people to buy better gifts. Using Giftfund, people can suggest the gifts they really want and find heartfelt gifts for others without worrying about budget."
Sponsored Links by DQ Promote