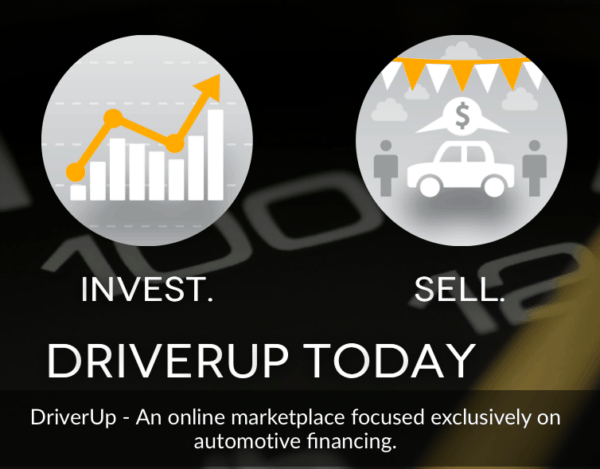 DriverUp, an online marketplace for automotive financing, announced its $20 million Series B round closing. The DriverUp marketplace gives accredited investors an opportunity to enter the $1 trillion auto lending industry and provides dealers with an expedited, streamlined credit process.  New investor SF Capital Group led the round joined by existing investors Emerald Development Managers and RRE Ventures.
"This Series B round allows us to accelerate our product development, support added marketplace loan inventory and ramp up marketing efforts," said DriverUp CEO Sam Ellis. "We have seen strong interest from accredited investors since launching, and are confident this round of funding will bolster DriverUp's ability to take the platform to new levels and reach a larger audience."
DriverUp also announced the appointment of Neil Wolfson to the company's Board of Directors. As president of SF Capital Group, Wolfson oversees all debt and equity investing, asset allocation, investment management and operations for a large multi-generational family office. SF Capital also recently led Patch of Land's $23.6 million funding round with Prosper President Ron Suber in April.  Wolfson also serves on the Board of Directors for OnDeck Capital, BorrowersFirst, Patch of Land, TodayTix, Nextivity and FastPay.
"In a very short time, DriverUp has clearly demonstrated that their technology can fundamentally improve auto lending, similar to how we have seen FinTech disrupt other industries," said Neil Wolfson, SF Capital Group President. "The auto-tech sector as a whole will continue to grow over the next few years as more stakeholders seek out efficient, platform-based auto finance options, and DriverUp is uniquely positioned to lead this charge."
DriverUp offers auto loans as an investment opportunity to accredited investors such as hedge funds, endowments, family offices, and high net worth individuals. Previously, investing in this sector was limited to a handful of large institutions, commented the company. Using technology to improve how loans are secured and serviced, DriverUp creating a direct-to-investor option  Through DriverUp's proprietary software and advanced data analytics, the marketplace seeks to enable efficient processing and direct investment in auto loans, with full transparency and reporting.