Earlier this week, San Diego entrepreneur Angelia Trinidad launched a fourth crowdfunding campaign on Kickstarter for her widely popular product, Passion Planner.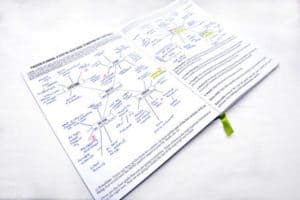 The Passion Planner is described as a paper planner that is designed with your passions and personal goals in mind. It is noted to seamlessly balance functionality, personal reflection and goal setting in one beautiful handcrafted planner.
Inner pages of the Planner include:
Annual goal setting guide to help you brainstorm, define, and create actions for your goals your lifetime, 3 year, 1 year, and one-month goals.
Weekly layouts (Sunday – Monday) that run from January 2016 – December 2016
Annual and monthly overview calendars
Monthly check in reflection questions to get you thinking about progress, gratitude and steps for improvement
20 Additional blank pages
20 Additional gridded pages
The Passion Planner Compact is also offered and measures 5.5" x 8.5", which is about half the size of a sheer of printer paper. It is printed on high quality, recycled, and bleed-resistant paper. It is then lovingly hand-bound in a durable and low profile soft leather cover that is complete with an elastic enclosure strap.
While explaining how she created the planner, Trinidad stated:
"In 2013, I had just graduated from UCLA, and I had no idea what I wanted to do next. After a dark period of depression, I realized I wasn't the only person facing this problem. I knew something needed to change. Life was too short to keep thinking "what if."

"I thought about what was the most productive and fulfilling times in my life, and I realized I always had a trusty sidekick, my planner. I searched from the perfect planner, but it didn't exist. So, I made my own.

"I designed a planner that not only helps you plan your daily life, but also helps you define and chase what you want out of life. We launched it on Kickstarter, and it became a viral phenomenon. In what felt like overnight, I went from working in my parents' garage, to a warehouse with a full staff."
Noting why she and her team decided to turn to Kickstarter once again, Angelia shared:
"I started this company wanting to give the world a tool that I wish existed when I was feeling lost. From day one, we have offered the PDF for anyone to use for free; we launched our Pay-it-Forward program, a program that allows people pay a planner forward to a stranger in need at half the cost; and we've given thousands of Passion Planners to 84 non-profits all around the country.

"But we want to do more. Now, on our two year anniversary, Passion Planner is taking one of our biggest steps forward. Today, through Kickstarter, we are becoming a Get-1-Give-1 Company. Every time you purchase a Passion Planner we are going to give one to someone in need. When you invest in yourself, you will also be investing in the dreams of someone else."
The Passion Planner has successfully raised over $1 million (including the $233,000 that it has received during the current funding initiative) through the crowdfunding platform. Those looking to purchase the planner starting at $30 (compact is $25).
The new campaign is set to close on November 24th.
________________________________________________
Have a crowdfunding offering you'd like to share? Submit an offering for consideration using our Submit a Tip form and we may share it on our site!