Teforia Claims "Best Cup of Tea You've Never Had"
I am not certain what the Xbox has to do with making tea but there must be some sort of connection. But I must admit, the creators of Teforia have some serious cred in product design. They are responsible for such products as the XBOX360 and Kindle Fire. This same team has won multiple Red Dot Design Awards, the IDEA Design Excellence Award and the Good Design Award. Now they are launching the "first" machine learning tea brewing device that is said to combine centuries of "tea knowledge" with modern science to create the perfect cup of tea.
"On a trip to Asia three years ago, I had a cup of tea that changed my life and transported me back to my childhood," explained Allen Han, CEO and founder of Teforia. "That discovery led me to realize how the $90 billion dollar global tea market largely consists of commercialized brewing methods and treatments. Most tea drinkers don't know what they're missing, so I wanted to create a way to perfect the process of brewing tea while honoring its tradition."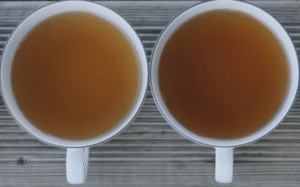 Han states that there has been zero advancement in tea brewing.  Out of the estimated 158 million daily tea drinkers – they do not know what they are missing. Teforia is said to create a "healthier cup of tea".  Customizable flavor profiles, caffeine and antioxident management, Teforia uses proprietary "Selective Infusion Process" (SIP) technology. Teforia automatically determines the best brewing method for each varietal using advanced algorithms combined with the knowledge of multi-generational tea masters and modern machine-learning technology. Teforia claims to bring out the richest and most robust flavor in your tea – ever.
While I drink tea pretty regularly, I am no connoisseur.  Teforia uses the following example;
Crafting an exceptional cup of tea with the proper balance of flavors and aromas not only requires an intimate understanding of the tea itself, but also a scientific attention to detail. Consider two green teas — Sencha and Dragonwell. Though similar in visual appearance, they actually require very different brewing techniques and deliver two distinctive flavors. A change of just three degrees in temperature and/or five seconds in brewing time can make all the difference between a bitter taste and an impeccable cup of tea.
Teforia is accepting pre-orders now for a limited release of 500 devices and will begin shipping throughout the United States in Spring 2016. According to the company, Teforia will retail for $1299, but for the first 500 devices, buyers can enjoy an early-bird price of $649.
So if you are an aspiring tea-master or simply a lover of tea, you may want to check this one out.
Have a crowdfunding offering you'd like to share? Submit an offering for consideration using our Submit a Tip form and we may share it on our site!