With Thanksgiving less than one week away, Indiegogo shared details about a few campaigns that are showing the real reason for the holiday.
The crowdfunding platform announced:
"Thanksgiving is a national holiday filled with tradition, joy, food and gratitude. Every year, family members and loved ones gather to celebrate and give thanks for what they have, oftentimes giving back to the community by volunteering and helping the needy and less fortunate. Thanks to the power of the Internet today, anyone, anywhere can help raise money for those who are in need. Not only are these 5 campaigns are showcasing the philanthropic power of the world, but the number of contributions from acquaintances and strangers alike truly demonstrates how generous, giving and kind people can be."
Check out the 5 campaigns below.
1. Feeding 100 People on Thanksgiving with Jalapeno Mac and Cheese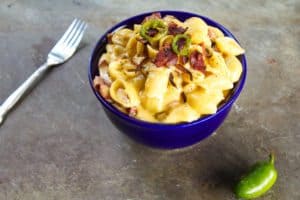 The platform shared that the campaign's organizer, Sathya Peri, a junior at Bentley University in Massachusetts, started the initiative to feed the homeless and hungry when he found out that 49 million Americans struggle to put food on the table. A viral video brought jalapeno bacon mac and cheese into the spotlight in a negative light, and a group of friends "thought it might be incredibly meaningful to take a negative trending news story and turn it on its head toward social good." The original goal to raise $500 to make 100 bowls of mac and cheese shattered its goal within days and entered InDemand to continue raising funds for supplies, like socks, gloves, hats and jackets to keep the homeless warm this winter.
"We chose Indiegogo first because it allowed crowdfunding for social causes, we also believed that our campaign could reach a wider audience because of its popularity, and the built-in incentives of perks had the potential of giving our campaign more momentum."
2. Mama G's Thanksgiving Street Dinner in San Francisco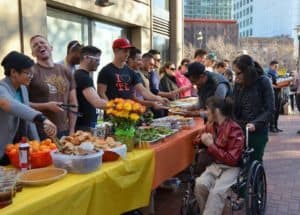 Indiegogo revealed the Tenderloin neighborhood in San Francisco is known for its high homeless population. There are several established community organizations that help feed the needy 365 days per year, and Mama G's annual Thanksgiving dinner has become one that hundreds rely on year after year.
Founded in 2009 by Peter Gallotta, Mama G's Thanksgiving Street Dinner is considered a grassroots movement of volunteers hoping to provide a nutritious, warm meal to those who need it. Their goal of $2000 goes directly to fund the meals, and any additional funds leftover will be donated to Tenderloin community organizations like St. Anthony's Foundation, Glide Memorial Church and Project Open Hand.
"We started Mama G's Thanksgiving Street Dinner out of a real compassionate concern for the health and wellbeing of the Tenderloincommunity, and wanting to find a way to support a community and people that are often overlooked and marginalized in San Francisco. Our vision of food sharing has always been about bringing resources donated by members of the community directly to the people who need it most, and fostering solidarity in the process. Since 2009, we have served over one thousand people a warm, nutritious Thanksgiving meal on the streets of San Francisco."
3. 7th Annual Day Before Thanksgiving Feast in Santa Monica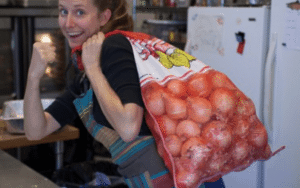 Indiegogo noted that Angelina Burnett, the organizer of the Day Before Thanksgiving Feast at the OPCC Access Center in Santa Monica has also launched a campaign for her giving cause. This year marks the 7th anniversary of this annual event at which volunteers feed 250 people fresh, locally grown, chef-prepared vegetables and sides as well as home-cooked turkeys. Though the goal of $800 goes directly to paying for food and supplies for the Thanksgiving feast, any additional funds will be donated to the shelter to help house and feed people year-round.
4. 500 Turkeys for 500 Families in New York City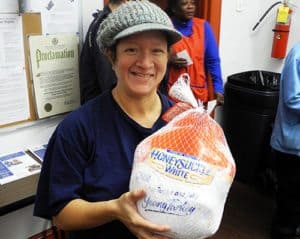 The platform noted that CAMBA, a Brooklyn-based non-profit that provides services that connect people with opportunities to enhance quality of life, launched a campaign to provide 500 turkeys for 500 families this Thanksgiving. The CAMBA Flatbush food pantry serves 4,000 people every month, providing emergency food, assistance with public benefit screening and applications, access to community resources and more.
However, each November, people hope for a little bit more so that they can provide their families with a Thanksgiving meal. Their goal of $10,000 will help provide 500 Thanksgiving meals to 500 families who rely on CAMBA's emergency food pantry.
"We've been thrilled by our community's generosity and the support of our sponsor, Ditmas Park Corner. The goal of raising money on Indiegogo for 500 Turkeys for 500 Families is simple: to give the low-income clients of our food pantry a traditional Thanksgiving dinner."
5. Thanksgiving Turkeys for Families in Atlanta
The fifth and final campaign that Indiegogo wanted to share details about is to provide Thanksgiving turkeys to Atlanta families. The neighborhood of Peoplestown in Atlanta, GA is home to over 3,200 individuals and has a rich history of community-based organizing and deep social networks. It also happens to be what's known as a food desert, an urban area without ready access to fresh, healthy, affordable food.
Emmaus House, a ministry of the Episcopal Diocese of Atlanta, wants to raise $3,500 to pay for turkeys and fresh fruit and vegetables for the people of Peoplestown, providing a healthy and hearty Thanksgiving meal for many residents who often don't get to enjoy nutritious meals. All tax-deductible donations will go directly to pay for Thanksgiving meals that people might not otherwise be able to afford.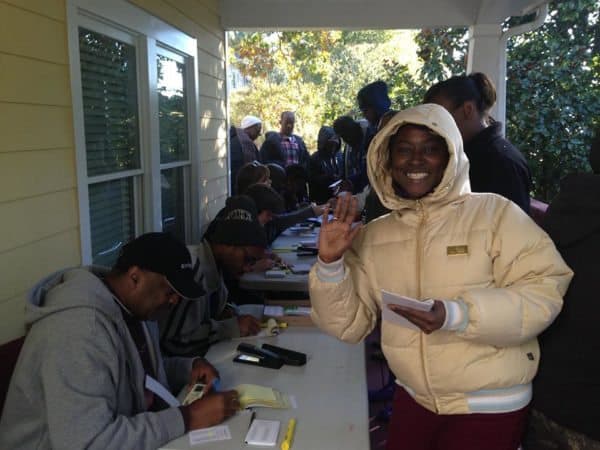 Indiegogo also discussed #GivingTuesday, which is global day of giving back to launch the holiday giving season and held on Tuesday December 1st.

Have a crowdfunding offering you'd like to share? Submit an offering for consideration using our Submit a Tip form and we may share it on our site!

Sponsored Links by DQ Promote