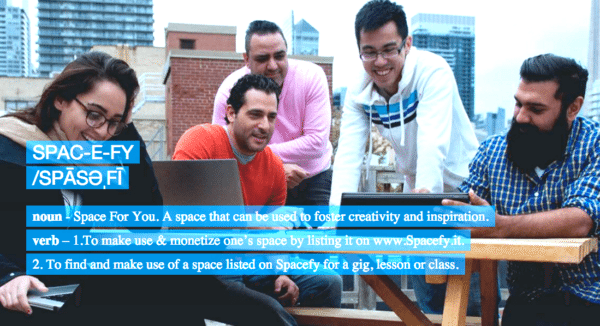 Since equity crowdfunding is a topic that's close to our hearts, and since it absorbs such a large chunk of my day and my thoughts, I'm always rather taken aback by some of the common misconceptions that come up anytime the discussion touches on equity crowdfunding at events.  It's the foundation on which we as a company have built everything, so anytime someone says to me "but isn't equity crowdfunding in Canada illegal?" or "equity crowdfunding hasn't really taken off here like it has in the States", I die a little inside.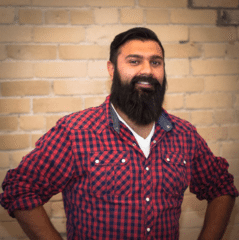 So I want to take a moment to focus on a success story, to show that it is happening, it is legal, and it can be successful here.  Enter Spacefy, a Toronto-based company that came to my attention when they closed a $300,000 funding round on InvestX.  I immediately sent them an unsolicited email excitedly inviting them to tell their story at an event series that we run called Equity Crowdfunding 102, and they agreed.
When I listened, I thought theirs was an experience other companies could learn from, and I started asking questions.  Co-Founder Alyas Ali answered.
---
Darcy Brooks: What brought you to Equity Crowdfunding?
Alyas Ali: Once the Spacefy site was ready and we'd registered a healthy amount of  spaces in Toronto, we felt we were ready for the next step, which included expanding to new cities and implementing a few product tweaks. This was the perfect time for a seed round. While we were exploring our options, we were introduced to InvestX from Vancouver, and the Equity Crowdfunding route.
This EC firm liked the concept, and we took the opportunity to pull together all the details required in order to provide an informative and enticing offer on the EC platform. It was a good strategy for us to go with InvestX at the time, especially since we wanted to raise a set limited amount.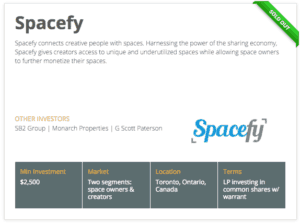 Darcy: Tell us how you made your campaign successful?  Can you point to any mistakes? 
Alyas: I'd attribute our success to a couple of different things. First and foremost, the business plan and company overview were extremely detailed. We tried to be as detailed and specific as possible in describing our business model, strategy, market size, competition, projections and so many other details we never even thought of pulling together. Having a great idea isn't always enough. Equally important is having a clear plan and overview of the market you are entering. I feel like that gives investors the piece of mind that you've got a set strategy and you've really thought things through.
I can't directly point to any mistakes, but if I did have some advice to offer, I'd say that getting things moving sooner rather than later is always a good thing.  Delays can be costly, and if you don't have a financial buffer to rely on, operating while you are waiting for funds can be a very challenging thing.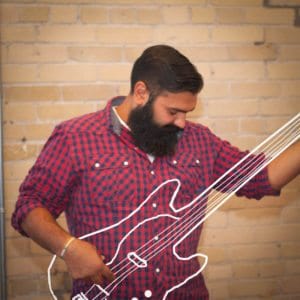 Darcy: What did you learn?
Alyas: Single page business plans have their place… but in order to raise in the equity crowdfunding space, you'll need to demonstrate that you've done your homework.  Everyone already knows this one, but relationships can really open doors that would otherwise be out of reach. The sheer amount of legal, business and operational tasks required in the startup world can be a handful on it's own. Having help with that allows you to focus on your core business and building it up.
Darcy: Would you do anything differently? Would you do it again?
Alyas: We've been very fortunate to be working with great people right from the start. Alongside all of the hard work, many things have fallen into place and truthfully, I think there only thing we'd do differently is try and accelerate certain parts of our build up. If I had to say one thing, we'd leverage more of the publicity we'd gotten from the raise. I suppose spreading good news sometimes can create even more opportunities for success!  We'd definitely do it again.
Darcy: What's next for Spacefy?
Alyas: We're going to be expanding to other cities.  Increasing the functionality of our sites and also implementing some new features that people have been asking for.  We'd love to be the starting point for any creative project! We'd love nothing more than for Spacefy to become common speak as a verb referring to finding or listing a space to do something creative.  IE, " I need to Spacefy a spot for our launch party" or "This decor in this house is amazing. You should totally Spacefy it and have it in a movie." (That's the goal anyway!)
Darcy: What would you say to other companies and investors considering equity crowdfunding?
Alyas: It can be a great way to put the word out there for your business and reach a relatively new and untapped market for investment. Be prepared to be transparent and open and ready for any potential questions that you get asked.
Darcy: Why do you think more companies aren't considering it?
Alyas: Not sure. Perhaps it's still a relatively new trend in raising money and people are used to more traditional methods of funding. Perhaps it's also that they aren't aware that this option is even available to them, or that navigating the legal obligations and rules would be too difficult for them to navigate on their own.  People assume equity crowdfunding is as simple as receiving the money. The rules around it can be hard to navigate without the proper guidance.
Spacefy's foray into equity crowdfunding won't be an unusual one for long.  With the launch of multiple new portals due to happen in 2016, success stories are already becoming increasingly common.  Rentmoola recently closed an equity crowdfunding round amounting to over $1 million, and another successful round recently closed on NexusCrowd. There is no cause for cautious projections in equity crowdfunding; it's poised to take off.
---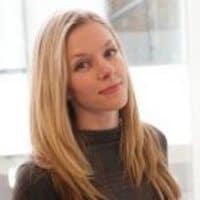 Darcy Brooks is Director of Marketing and Communications for KoreConX, which provides companies with the tools to navigate raising capital and shareholder management and communications. She has a Masters in Business Administration, and 6 years' experience working in crisis and strategic communications, PR, and marketing. She has worked on developing business strategies for a number of technology start-ups as well as established brands, is an active member of Startup Canada's Corporate Development team, and has acted as a consultant to large real estate companies and trade associations, advising on communications strategy and knowledge mobilization. Darcy is also involved with Ryerson University's Summer Company student entrepreneurship program as a mentor.

Sponsored Links by DQ Promote