Earlier this week, University of Connecticut (UConn) employees launched new crowdfunding pages as part of the university's "Close to Home" campaign.
The project's description reads:
"The Close to Home Campaign provides UConn's faculty and staff with an opportunity to make a gift to UConn in a meaningful way. We encourage faculty and staff to make a contribution to support UConn in an area they choose, whether that's a specific school, college, student support fund, performing arts venue, museum, or athletics program. As part of the campaign we have launched a Crowdfunding page where faculty and staff can create a fundraising page to promote the cause they feel the most passionate about here on campus."
According to UConn Today,  faculty, staff, and retirees may now donate directly to research and programs at the university through special crowdfunding pages that their colleagues have set up. Lauren Ellis Grabowski '09 (CLAS), assistant director of annual giving at the UConn Foundation, stated:
"Crowdfunding really lets people promote causes they personally feel passionate about."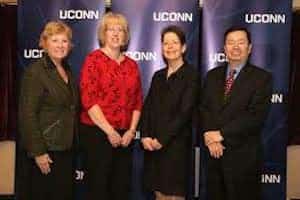 Mary Ann Phaneuf, program administrator in the School of Pharmacy's Office of Experiential Education, also set up a crowdfunding page for scholarships:
"I know when I went to school, scholarships helped me to achieve my personal success, and this fund is my way of giving back and making an impact. I love seeing the energy and excitement of students around campus once they receive a scholarship, and know that these contributions are a catalyst for their academic success."
Employees who want to give to the Close to Home Campaign have until December 31st to make their contributions.