Following the departure of board member Anake Goodall, managing director and CEO of PledgeMe, Anna Guenther, announced the crowdfunding platform is currently to fill the recently opened position.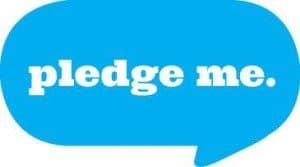 Last week, PledgeMe revealed that after two years of hard work, sage advice and even cupcake decorating, Goodall has decided to step down to focus on his family work.
Guenther previously stated:
"I often think that Anake has a hundred year plan for Pledge (and for me). He has a ways at looking beyond the immediate, and really contributes to the strategy and evolution of what we do. That said, he's got no hesitation at pointing out things that need to be handled immediately, and has contributed a lot to the documenting of policies (with his red pen on hand to point out any typos I might make)."
On Tuesday, Guenther went on to share details about the board member position:
"An acquaintance once told me a good director (on a board of directors, not like Steven Spielberg director) is like having someone on the roof of your car, shining a light onto the road ahead. They aren't driving (that's the CEO) or actually in the car (that's the team) but they make sure you are heading in the right direction, and might occasionally reach into the car to pull the handbrake if they need to.

"With Anake leaving our board of directors, we're on the lookout for someone to jump on the roof of the car that is PledgeMe. That someone needs to be able to shine their full beams on our mission to help Kiwis fund the things they care about, our strategy, and oversee our management team.

"We're going to crowdsource applications because… you know… we're a crowdfunding site. Typically, the hunt for a new board member goes on behind closed doors, but, we'll be searching for the right person with our crowd's help. Who is our crowd? Well that's you!"
Check out the position's info below.
Position: PledgeMe Board Member
Length of term: 1 year with the option to renew annually
Applications open: 15 January
Applications close: 10 February
Interviews: 15 February
Directors' Fees: $1,100 per month (paid in shares / cash annually).
Anna  then noted what kind of skills candidates need:
1. Someone who'll ask good questions
"You don't need to know the answers, but you do need to help us ask the right questions and work toward constructive solutions together. It's not only about the questions, it's about sharing your experience and reviewing our work, and chipping in with your informed opinion about the best path forward."
2. Someone who is ok with a bit of risk (but can manage it too)
"PledgeMe likes to do things differently. We want to push boundaries, move quickly, and make a difference. You need to be comfortable with a constantly evolving playing field. To change the world you've got to be a bit uncomfortable, right?"
3. Someone constructive
"We want to make sure we have a diversity of opinions in our decision making — that's why we have a board. We don't have to always agree, but we do need to come to solutions which work. You'll need to be able to identify and tell us about risks. This needs to be done in a constructive and consensus-focussed way."
4. Someone who is good with kids
"You don't have to have any. We don't need a babysitter. In our experience, the best board members are the ones who are great parents / aunties or uncles / mentors. Startups are pretty similar to a teenagers, sometimes you need to protect them from themselves but often you just need to let them make their own mistakes in a safe space."
5. Someone comfortable with tech
"You won't have to dive deep into the Ruby or be our new scrum master, but we need someone who likes using Google Docs, responds to emails promptly, and who knows how to use platforms like Slack, Trello, andLoomio."
6. Someone who is comfortable with the financial and legal side of things
"You don't need to be an accountant or a lawyer. But, you should be able to read a balance sheet, and be comfortable with the requirements of being a director. We're also looking for the new board member to bring experience / skills in branding, scaling operations, and/or a legal brain (though, we'll still call on our lawyers, Buddle Findlay, as needed)."
Sponsored Links by DQ Promote