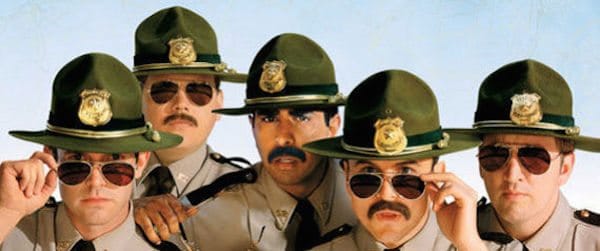 Ready to offer up an update to Indiegogo backers of the high anticipated Super Troopers 2, actor and director Jay Chandrasekhar, announced the movie's filming progress.
Chandrasekhar shared:
"Happy Winter.  It's Jay here, and I know what you're thinking: Where's the f**king movie?

"Don't worry. It's coming, Trust me, we want to make SUPER TROOPERS 2 even more than you want to see it.  We shot a week already, and we'll shoot the rest once the snow melts in Massachusetts. Don't get me wrong.  It's not because we're against shooting in the snow. It's because Heffernan left all of the jokes outside and they froze over.

"So, now we wait.  Thanks, Heffernan.

"While we wait, I've been busy working on some television shows. I directed my friend, Jeff Garlin, on his show, THE GOLDBERGS. He's a gas. I worked with Jane Lynch on her show, ANGEL FROM HELL. That was a reunion as Jane and I last worked on ARRESTED DEVELOPMENT years ago, when we argued about where a pause should go in a sentence. I am currently shooting with all of my pals over at NEW GIRL. They're a talented bunch. Even Max Greenfield. Next, I'll be working with Rob Lowe and Fred Savage on their hilarious new show, THE GRINDER. Love that show. Seriously, it's a great one.

"Meanwhile, I've also been editing the first twenty minutes of SUPER TROOPERS 2, and it's looking quite spiffy. We know that opening scene matters a lot, and we're pretty happy with what we have so far."
Jay goes on to discuss the upcoming Chicago Beerfest 2016 tournament, which will held on February 27th:
"If your Indiegogo perks include tickets to Beerfest, be sure to check your email, because we sent out more details about the event this afternoon. If you check your spam and still don't see it – and if you're sure your perks included tickets to Beerfest – email [email protected] and let us know.

"If you DON'T have tickets to hang out with us at Beerfest, you might be in luck. I'm hearing we'll be able to add a few more tickets for that previously sold out event. I assume they found some more chairs in the backroom?"
He then added:
"We're looking forward to getting to hang out with a bunch of you next month. Until then, thanks again for being patient. You are beautiful people and you have great teeth.  Don't let anyone tell you different."
Have a crowdfunding offering you'd like to share? Submit an offering for consideration using our Submit a Tip form and we may share it on our site!