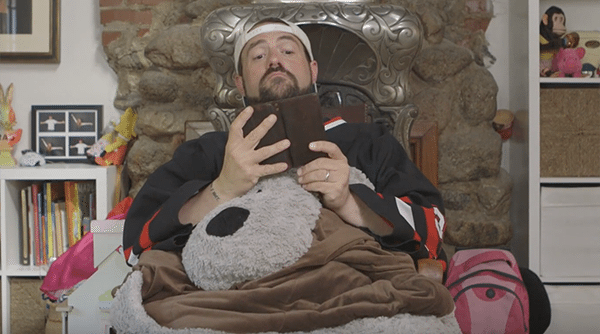 Jay and Silent Bob fans – this is the game you've been waiting for! Interabang Entertainment is making a video game about the hilarious duo called Jay and Silent Bob: Chronic Blunt Punch! and is seeking to raise $400,000 through a crowdfunding campaign on Fig.
According to the Interabang Entertainment crew, Jay and Silent Bob: Chronic Blunt Punch is a side-scrolling 2.5D, over-the-top multiplayer tag-team brawler whose action escalates as the player travels deeper into the mall of purgatory. The team is creating the narrative through environment, design, combat and a new conversation combat system called the Convo Combo mode. This mechanic changes the dynamics of enemy showdowns through cutting insults combined with an intricate facial animation system that bonds dynamic fighting with timed phrase matching.
In Jay and Silent Bob: Chronic Blunt Punch, players get into a tag team combo fight fest and wreak havoc on their foes with fists, feet, and the magic of self-esteem-destroying jibes while embarking on a mission to find their long-lost pot customers trapped in an Orwellian mega super shopping mall. The mall turns out to be a Utopian labyrinth with apartments, restaurants, hospitals and everything that a post-World War II nuclear bunker would contain—with apparently a candy coating of fun.
The studio noted:
"With the help of Kevin Smith, Jason Mewes, and the SmodCo team, we bring you the appropriately named, Jay and Silent Bob: Chronic Blunt Punch. Pushing the boundaries of  humor and stories portrayed in games, we are co-designing an experience that weaves together the tone and wittiness of Kevin's movies with fast-paced combat.

"Kevin and Jason will contribute voiceovers and storyline feedback for continuity and dynamic gameplay. We will work with many talented folks  who have taken part in other Kevin Smith classics such as Chasing Amy and Mallrats in order to keep the worlds consistent and true to the View Askew-niverse."
Smith commented:
"People have asked me for years why I never made a Jay and Silent Bob video game. Now I can tell them I was waiting for Justin Woodward from Interabang Ent. and our own Elias to bring it together.  Couldn't be happier to hand our characters off to folks who know them as well as I do."
Interabang founder Justin Woodward stated:
"Kevin Smith's films have long inspired our team. During development for our first game, we'd take breaks to watch them back to back. The iconic characters, hilarious dialogue, and sheer surrealism of the Askew-niverse got us through rough patches during development and life's struggles. We kept coming back to thinking about how amazing it would be to see Jay and Silent Bob in a game like the ones we design, and we're amazed that we have this opportunity now."
Justin Bailey, CEO of Fig, added:
"The first time I heard about Justin creating a game based on Jay and Silent Bob, I wanted it to be a Fig campaign. I mean, Kevin Smithand Jason Mewes in a Castle Crasher style brawler, fighting with fists, feet and insults – what's not to like?! This campaign will provide traditional rewards, and accept accredited investment as well as unaccredited reservations which will be collected once they are re-confirmed after the SEC filing process is complete."
Those who back the project will receive various awards, including  premium digital goodies, new action figures based on designs from the game, signed custom Kevin Smith-style jerseys and a walk-on in Kevin Smith's next movie.
Since its launch Jay and Silent Bob: Chronic Blunt Punch! campaign has secured over $60,000.
__________________________________________________
Have a crowdfunding offering you'd like to share? Submit an offering for consideration using our Submit a Tip form and we may share it on our site!