OTC Markets Group Inc.,  operator of open, transparent and connected financial markets for 10,000 U.S. and global securities, announced this week its financial results for the fourth quarter and fiscal year 2015.
R. Cromwell Coulson, president and CEO of OTC Markets, stated:
"Our record revenues in 2015 were the result of our focus on enhancing our innovative OTCQX Best and OTCQB Venture markets for public companies. Our strong results position us to continue to invest in our people and systems, focus on reliability and regulatory compliance, and deliver on our mission to create better informed and more efficient markets that directly connect broker-dealers and meet the needs of the next generation of U.S. and global companies and investors."
Coulson then noted,
"The future of financial markets is online, data-driven and social, and our broker-dealer network-based markets are tailor-made to become the markets of choice for secondary trading for innovative and entrepreneurial crowdfunded offerings.  We were thrilled to announce on February 19 of this year that Elio Motors, the first company to successfully complete an IPO under Regulation A+, joined our OTCQX Best Market."
Bea Ordonez, CFO of OTC Markets, added:
"Strong overall revenue performance during the fourth quarter and for the full year was primarily due to the growth of the OTCQB Venture Market, which drove significant increases in Corporate Services revenue. We are pleased that we were able to continue to deliver substantial value to shareholders in 2015."
See full results below.
Fourth Quarter 2015 compared to Fourth Quarter 2014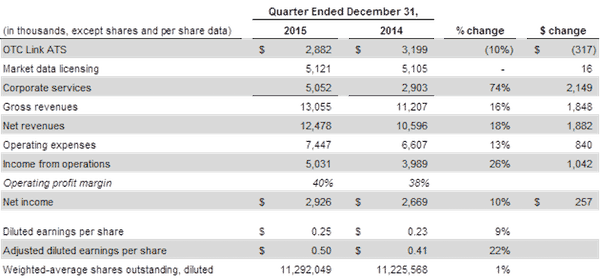 Highlights include:
Gross revenues increased $1.8 million, or 16%, to $13.1 million.

$2.1 million increase in Corporate Services revenues, largely driven by growth in OTCQB verified companies.

Decrease in revenues from OTC Link ATS of $0.3 million, or 10%, to $2.9 million, largely a result of the elimination of fees for the quoting of OTCQX and OTCQB companies.

Operating expenses increased $0.8 million, or 13%, to $7.4 million, primarily related to increases in compensation and benefits costs.

Income from operations increased $1.0 million, or 26%, to $5.0 million.

Net income increased $0.3 million, or 10%, to $2.9 million, primarily due to the increase in operating income, partially offset by an increase in the effective tax rate for the quarter.

Adjusted EBITDA, which excludes non-cash stock-based compensation expense, increased $1.1 million, or 23%, to $5.8 million, or $0.50 per adjusted diluted share, as compared to $4.7 million, or $0.41 per adjusted diluted share, during the same prior year period.
Fiscal Year 2015 Results compared to Fiscal Year 2014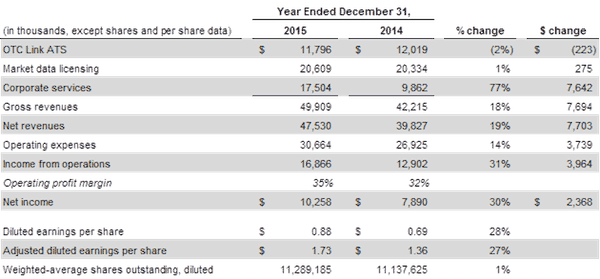 Highlights include:
Gross revenues increased $7.7 million, or 18%, to $49.9 million, primarily a result of significant growth in our Corporate Services business.

OTC Link ATS revenues reflected a 2% decrease versus the prior year, primarily a result of the elimination of quote fees for subscribers quoting securities traded on our OTCQX and OTCQB markets.

Operating expenses for the 2015 fiscal year were $30.7 million, up 14% over 2014.  Compensation and benefits costs increased by $3.1 million, or 20%, to $18.7 million and technology and infrastructure costs increased by 13%, to $4.9 million.

Income from operations for the fiscal year increased by $4.0 million, or 31%, to $16.9 million. 

Net income increased 30% from $7.9 million in 2014 to $10.3 million in 2015.

Adjusted EBITDA increased $4.4 million, or 28%, to $20.1 million, or $1.73 per adjusted diluted share as compared to $15.7 million, or $1.36 per adjusted diluted share for fiscal year 2014.
Sponsored