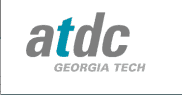 A year after launching an accelerator program focused on helping entrepreneurs in Georgia's growing FinTech sector succeed, the Advanced Technology Development Center (ATDC) at Georgia Tech is working with a portfolio of 20 innovative startups — including 8 which have already raised more than $16.8 million in funding. The ATDC FinTech Program was created through a $1 million gift Georgia Tech received from Worldpay, the global payments technology company.
"We are pleased with the progress of the program in its first year and excited about its future because of the next-generation of financial technology being created by the companies here," said Worldpay US Chief Marketing Officer Sarah Arvin. "As leaders in modern money and through this partnership with the ATDC, we're committed to helping more disruptors disrupt and get to market faster."
Companies participating in the ATDC FinTech Program receive many business incubator benefits, including access to early customers, capital, and campus resources. In addition, senior Worldpay executives advise on payments integration into their software and applications, as well as consult on effective go-to-market strategies.
"A year into building this program with Worldpay, we are already seeing some spectacular results," said Michelangelo Ho, the ATDC FinTech catalyst. "One example is the Technology Association of Georgia naming three of our companies — Split, Freeing Returns and aFundia — as the top three FinTech startups in Georgia for 2016. Another is Hitachi Capital America announcing it would give up to $100 million to fund the mid-market supply chain through another one of our program companies, TradeRocket, which provides working capital to this segment."
Groundfloor is another company participating in the ATDC FinTech Program that serves as the bridge between real estate development projects and individuals who want to pool their money together to fund loans to property developers.
"The camaraderie and staff at ATDC have been an important element of our company's evolution since joining the Signature program over a year ago," opined Brian Dally, co-founder and CEO of Groundfloor. "Since then we've doubled the size of our team and tripled our business, thanks in no small measure to the constructive environment and resources here. We're big supporters."
Jen Bonnett, acting general manager of ATDC added,
 "Our mission at ATDC is to help entrepreneurs launch and build successful technology companies in Georgia. With that, we look at industries and sectors such as FinTech that are growing the Georgia economy, attracting new investment to the state, creating new jobs, and bringing new solutions to the marketplace."
The FinTech focus at ATDC and partnership with Worldpay adds another element to Atlanta's growing reputation as a global FinTech capital. Some 60 percent of FinTech companies are based in metro Atlanta and 70 percent of the $5.3 trillion in annual U.S. card spending is processed through Georgia's "transaction alley," according the American Transaction Processors Coalition.
Have a crowdfunding offering you'd like to share? Submit an offering for consideration using our Submit a Tip form and we may share it on our site!