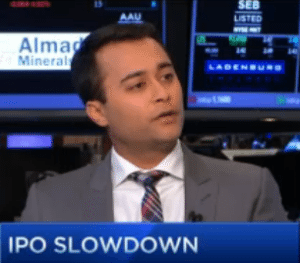 EquityZen is a platform that seeks to provide liquidity in private company securities. This is one company that has benefited from the plunging decline in early stage IPOs. Founders Atish Davda, Shriram Bhashyam, and Phil Haslett created the company with a single ambition: to redesign the marketplace for closely held equity.
Davda recently visited the studios of CNBC to explain why EquityZen was different from previous participants in the private marketplace space.  Davda stated his platform is a 2.0 version that is a more liquid marketplace. It does help that the number of private companies has doubled since around 2007.  EquityZen only accepts accredited investors on its site. But it provides a valuable service to employees of startups – many who are remunerated in company shares. The first quarter of 2016 has been their busiest yet.
How do you determine the value of the shares?  EquityZen uses multiple factors such as most recent funding round valuations, the stage a company is in its evolution and how soon it may (or may not) go public to help render a share price.  Of course supply and demand is a factor too.  Not only does EquityZen provide liquidity for employee shareholders but the market provides an opportunity for smaller investors (accredited ones) to gain access to invest in promising young companies.
Watch the video below.