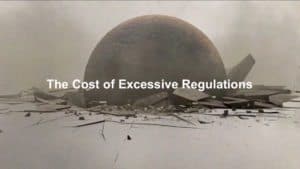 The Independent Community Bankers of America (ICBA) has sent a comment letter to the Office of the Comptroller of the Currency regarding " responsible innovation".  While everyone understands that Fintech can provide incredible benefits to both consumers and the economy, smaller banks are getting the shaft.
The very same regulations that force the very largest of banks to spend gazillions on compliance are ladled on top of these small banks. Rule upon regulation incurs serious costs that, inevitably, end up being paid for by consumers.
"Community banks today are subject to an unprecedented level of regulation and supervisory review that regulators continually point to as a signal of great financial strength in the vast financial services industry," states the ICBA. "The biggest barrier to future innovation for community banks is the regulatory burden these institutions face on a daily basis."
Oh so true.
The ICBA also believes that "any newly created financial institutions must be subject to the same rigorous safety and soundness standards as today's community banks to be allowed to operate in this space."
While no one would ever ask a financial institution not to be sound and safe, perhaps a review and removal of a rule or two (or more) would make greater sense? Community banks are supportive of continuous innovation and admit they may need to collaborate with some of these lean Fintech firms.
While community banks appear ready to adapt can the same be said of US policy makers?
[scribd id=314904649 key=key-Is3m9UzQydaQjVs40aUJ mode=scroll]