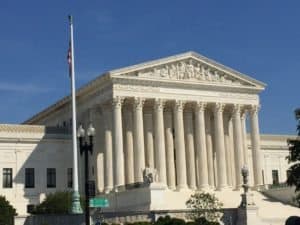 The ongoing saga of Madden vs. Midland just took another twist as the US Supreme Court has decided not to review the Second Circuit court decision on usury laws.  This is according to a report in Law360 today.  The decision was described as a "blow to marketplace lenders and other firms that rely on securitizations."
SCOTUS rejected a petition for certiorari filed by Midland to overturn a decision that found the firm was charging interest rates that violated the New York state's usury laws.
Amy Wan, a securities attorney and Crowdfund Insider contributor who has written about the case stated;
"This cert denial presents many difficulties and uncertainty going forward, not only for marketplace lending, but also for the larger lending and securitization industry."
Lending Club, the largest US marketplace lending platform, had previously announced changes to its loan structures as the Midland case continued.
This past May, the Solicitor General's Office filed a brief and weighed in on the Madden v. Midland Funding case. The brief shot down the Second Circuit's holding on the matter and recommended that the Supreme Court not hear the case.