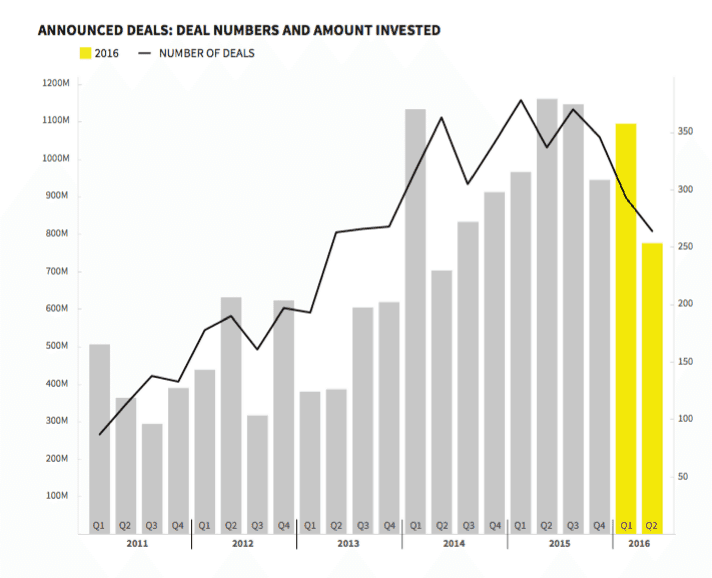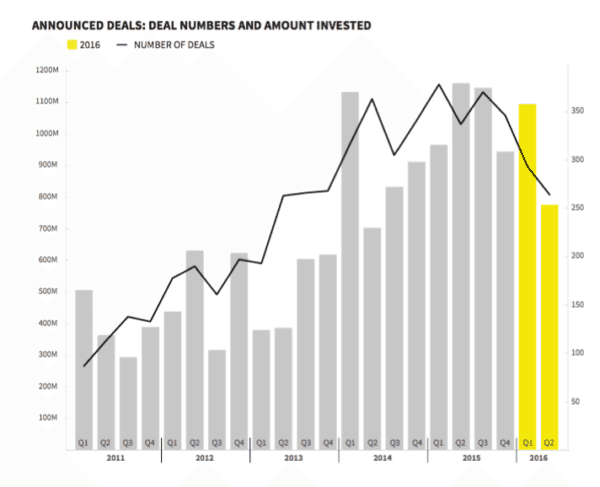 After many moons of solid growth, the UK equity crowdfunding market is in the midst of a slump.  This is according to data on the UK funding ecosystem correlated by Beauhurst released this past week.  The slowing market started in Q1 and accelerated during Q2 with deal numbers dropping by 10% and overall investment plunging by 29%.
The authors describe the market slump as "somewhat bleak" for high growth early stage businesses – and it is not just for equity crowdfunding as PE and VC funding in the UK apparently took a hit too.
Now the numbers are not ALL bad. Beauhurst notes that "the money is still there" but fewer investments are being made and the deal size is getting larger.  For rounds of £10 million or more – there was actually an increase. Deals under £250,000 drooped by 29%. This may be indicative of a risk off situation. Between Brexit, a wobbly global economy and everything else in the mixed bag of geopolitics – perhaps this should come as no surprise.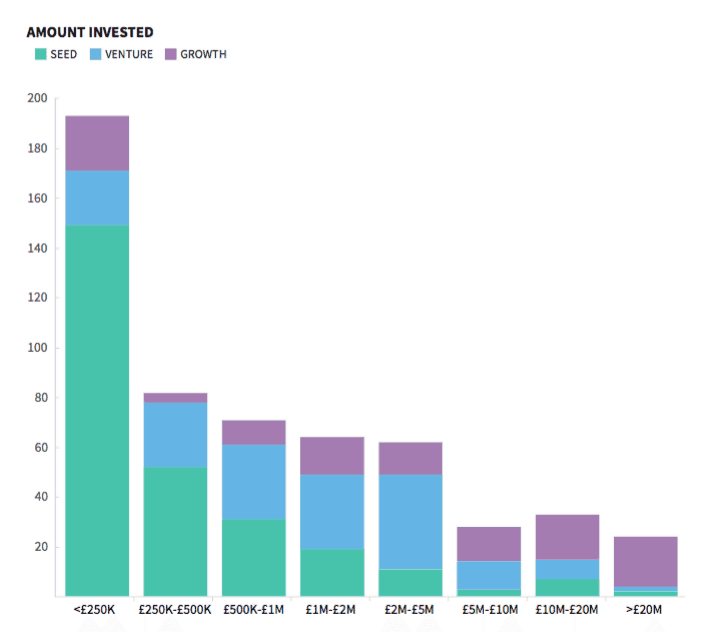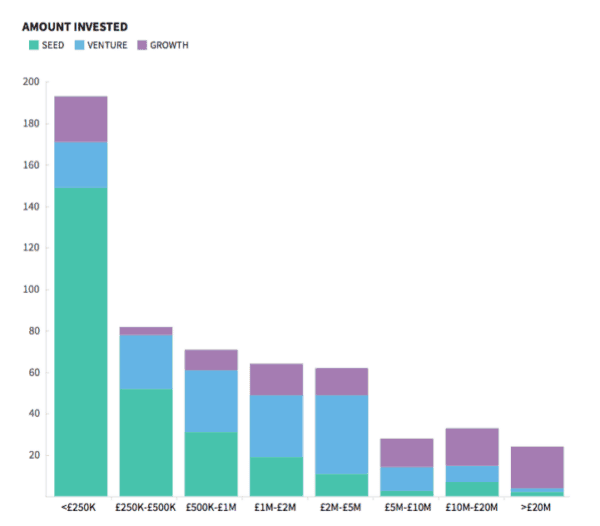 Looking forward, Beauhurst states the EU referendum will have "far reaching consequences."  Early stage companies voiced their desire that the UK would have remained part of Europe only to have their hopes dashed. One pitfall to leaving Europe is the European Investment Fund (EIF), an entity that has dedicated £2.3 billlion to SMEs, will probably no longer have UK SMEs on their funding list.  There is also the issue of talent. Almost 45% of of UK startup employees come from outside Britain indicating a dearth of individuals with needed skills. This fact may make it more difficult for early stage companies going forward. Of course the jury is still out on all of this but uncertainty equals risk.
Some other facts of note from the Beahurst report:
58% of deals were seed stage but most money was at growth stage
832 deals were seed stage during H1, a year over year decline of 11%
£387 million was invested in seed stage up 16%
413 venture stage deals for £642 million were revealed in H1 down 36%
182 growth stage investments in H1 down 19%
Growth stage funding totals increased by 5% over previous half
Deals fell in each sector: Tech, Media, Retail, Business Services, Industrials and Leisure & Entertainment.  Tech took the biggest hit.
Geographically, London deals dropped by 28% but still delivered the most at 247 deals (as one would expect)
Scotland jumped by 220% driven by a few big deals
Crowdfunding platforms were the dominant players in number of fundraisings facilitated
Crowdcube facilitated the most transactions but Seedrs completed more investments
Crowdfunding was the second most active investor type after PE/VC with total deals numbering 158 vs 201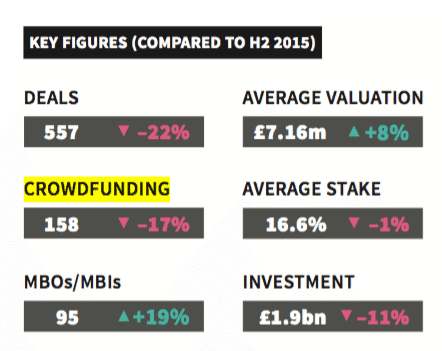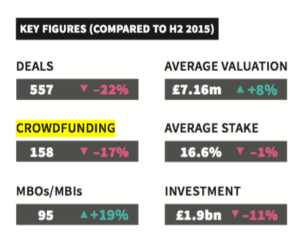 The report is a great overview of the UK funding market and it is available for download if you are willing to hand over your email and name. With the new UK government picking up steam and assuring the UK is "open for business" it will be interesting to see what programs may be added to juice SME growth. We all know that smaller companies are the lifeblood of any economy. It would be hard pressed for the May government to ignore this fact and put the UK economy at peril.

Sponsored Links by DQ Promote