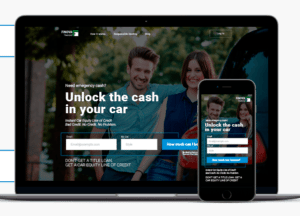 Finova Financial, a cloud and mobile-based consumer auto title lending platform, has raised $52.5 million in a combination of equity and a credit facility, claiming to be one of the largest initial rounds in FinTech industry history, announced the platform.
The funding round was led by Silicon Valley and international venture capital firms, prominent tech entrepreneurs and others, including MHS Capital; Refactor Capital; Metamorphic Venture; 500 StartUps;  Sam Hodges, Co-founder and Managing Director of Funding Circle; Jake Gibson, co-founder of NerdWallet; Al Hamra Group, a private company owned by the ruling family of Ras Al Khaimah, United Arab Emirates, and others. CoVenture provided the credit facility to support the enterprises' growth. Founded in 2015, Finova's funding will be used to grow an all-digital lending platform serving the auto title loan marketplace, with a social-impact emphasis, while delivering up to 70% lower cost to consumers.
"Finova Financial was launched to help consumers get critically-needed cash without the traditional barriers of high interest rates, inconvenient application processes and restrictive payment terms of the auto title lending industry," commented CEO Gregory Keough. "As a company committed to social impact, we see Finova Financial as being an advocate for consumer financial well-being through improved access to credit, better repayment terms and lower costs."
The platform aims to tap into the more than 28% of Americans who are non- or under-banked, by offering secure, seamless and fair lending. According to the platform, in the U.S. alone, 70 million underserved consumers pay $138 billion annually in fees and interest on alternative financial products, highly prohibitive for individuals and families experiencing short-term financial needs. Auto title loans often require payment within 30 days and charge more than 300% interest for loan terms. Finova's online Car Equity Line of Credit (C-LOC) product and cloud based lending platform aims to eliminate this model, providing the ability to establish or rebuild credit through transparent loan repayment terms.
"Greg and his team have done an incredible job of building the financial technology company of the future to cater to the very specific needs of the non- and under-banked in the U.S.," said David Lee, Co-founder and Managing Partner, Refactor Capital and former managing partner of SV Angel. "Finova has earned great traction, and we look forward to working closely with them as they scale rapidly, giving consumers the opportunity to get back on track financially."
The C-LOC loan solution is the first in a series of digital financial services products the enterprise is planning to offer in response to the needs of hundreds of millions global consumers outside the formal financial system.