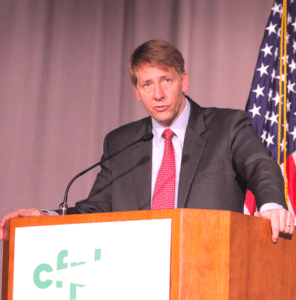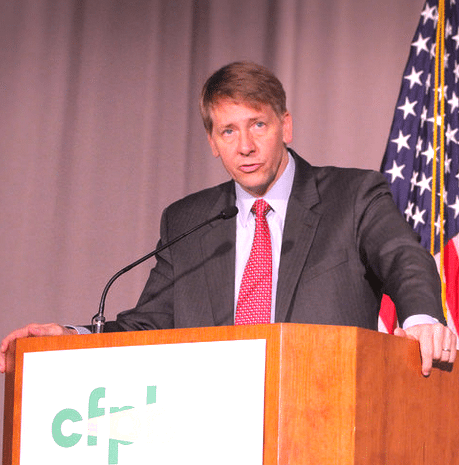 The youngest financial regulatory agency of them all, the Consumer and Financial Protection Bureau (CFPB), has announced its new Advisory Board and Council Members. The CFPB, established under Dodd-Frank, was mandated to create these advisory boards and councils. While the various groups were represented by many well-established banks, credit unions and more, there was a gaping hole in the announcement.  Very few representatives from the future of finance (ie Fintech), such as marketplace lending, were appointed. While alternative finance is poised to fill gaps from traditional finance – across the spectrum of financial services, somehow the CFPB managed to avoid many of the prominent platforms striving to provide consumers and businesses better service – at a lower price point.  While the appointees are prominent and capable members of the financial industry, the void was apparent.
The CFPB appointed "consumer experts to the following entities: Consumer Advisory Board, Community Bank Advisory Council, Credit Union Advisory Council, and Academic Research Council. These four bodies  are expected to provide advice to CFPB leadership on a broad range of consumer financial issues and emerging market trends.
Richard Cordray, Director of the CFPB, said the new advisors would play a role in taking into account a "wide variety of perspectives."
"The new additions being announced today bring experience and knowledge that will help inform the CFPB's work going forward."
The CFPB stated;
"The expertise and institutional-size diversity among advisory group members reflects the range of issues under the Bureau's jurisdiction as well as the racial, ethnic and geographic diversity of U.S. consumers.. New members to the Consumer Advisory Board and Academic Research Council will serve three-year terms and new members to the Community Bank and Credit Union Advisory Councils will serve two-year terms."
The new appointees are published below.
Consumer Advisory Board Members:
Lynn Drysdale, Managing Attorney, Consumer Law Unit, Jacksonville Area Legal Aid, Inc., Jacksonville, Fla.
Paulina Gonzalez, Executive Director, California Reinvestment Coalition, San Francisco, Calif.
William Howle, Head of U.S. Retail Bank, Citibank, New York, N.Y.
Ruhi Maker, Senior Attorney, Empire Justice Center, Rochester, N.Y.
Arjan Schutte, Founder and Managing Partner, Core Innovation Capital, Los Angeles, Calif.
Lisa Servon, Professor, The New School, New York University, New York, N.Y.
Raul Vazquez, Chief Executive Officer, Oportun, Redwood City, Calif.
James M. Wehmann, Executive Vice President, Scores for Fair Isaac Corporation (FICO), Roseville, Minn.
Chi Chi Wu, Staff Attorney, National Consumer Law Center, Boston, Mass.
Community Bank Advisory Council Members:
Melissa A. Ballard, Vice President and Director, First Iowa State Bank, Albia, Iowa
Menzo D. Case, President and Chief Executive Officer, Generations Bank, Seneca Falls, N.Y.
Linda Feighery, Vice President and Community Reinvestment Act /Fair Lending Officer for Citywide Banks, Denver, Colo.
Brenda K. Hughes, Senior Vice President and Director of Mortgage and Retail Lending, First Federal Savings Bank of Twin Falls, Twin Falls, Idaho
Dion Kidd Johnson, President, Chief Operating Officer and Chief Risk Officer, Western Bank, Alamogordo, N.M.
Cal Ratcliff, Senior Vice President, Chief Compliance Officer, Bank of North Carolina, High Point, N.C.
Trent Sorbe, President, Central Payments Division, Central Bank of Kansas City, Kansas City, Mo.
Credit Union Advisory Council Members:
Faith Lleva Anderson, Senior Vice President and General Counsel, American  Airlines Federal Credit Union, Fort Worth, Texas
Daniel Berry, Chief Executive Officer, Duke University Federal Credit Union, Durham, N.C.
Patrick F. Harrigan, Chief Risk Officer and General Counsel, Service Credit Union, Portsmouth, N.H.
Ricardo Ledezma, Corporate Compliance Assurance Manager, San Antonio Federal Credit Union, San Antonio, Texas
Sarah Marshall, Chief Executive Officer, North Side Community Federal Credit Union, Chicago, Ill.
Dayatra T. Matthews, Senior Vice President of Legal & Compliance, Local Government Federal Credit Union, Raleigh, N.C.
Amy Nelson, Chief Executive Officer, Point West Credit Union, Portland, Ore.
Raynor Zillgitt, Vice President Risk Management and General Counsel, Lake Trust Credit Union, Brighton, Mich.
Academic Research Council Members:
Ian Ayres, William K. Townsend Professor, Yale Law School, New Haven, Conn.
Brigitte Madrian, Professor, Harvard University, Cambridge, Mass.
Sponsored Links by DQ Promote