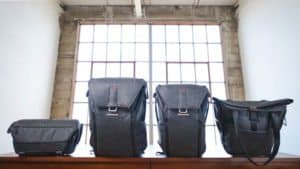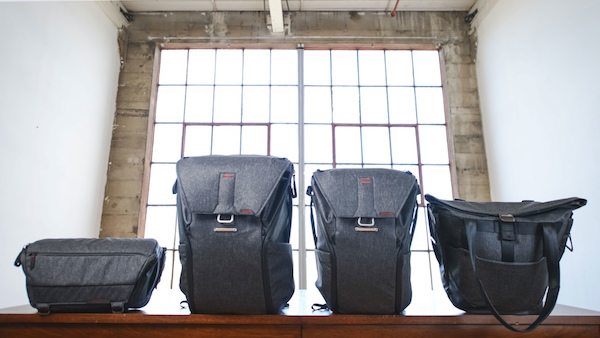 Peak Design looks to the crowd to surpass $4.3 million (or better, $5M!) for its Everyday Backpack line during its final 8 days on Kickstarter, swiftly passing its modest goal of $500,000 for line's four new bags. Within hours, the California-based initiative not only successfully secured its initial goal but nabbed over $1 million. Currently over 17,909 backers have raised over $4,271,180.

Peak Design has launched successful Kickstarter campaigns in 2011,  2012, 2013, 2014 and 2015. As reported earlier, the new Everyday line offers four more bags, which are the Everyday Backpack (features two sizes), the Everyday Tote, and the Everyday Sling available in ash and charcoal. The Peak Design team revealed that each of the bags features lightweight, waterproof material that is all custom with a lifetime guarantee. They bags will also feature dedicated carry for laptop/tablet devices and tripods, along with discreet built-in luggage straps. The Everyday Sling is currently available for $125, the Everyday Tote is $155, and the Everyday Backpack is $199. 
On a recent update, the startup showcased three sizes of its new Range Pouch, which its will be offering on Kickstarter at discounted prices. The retail price of the pouches will be $35, $40, and $45 for the S/M/L, but Kickstarters can order them for $29, $34, and $39  by clicking the "Manage Pledge" button on the campaign page. Simply add the dollar amount that corresponds to the size and quantity and Peak Design will handle the details at the end of the funding period. No need to add on additional shipping cost.The bags (and possible even the Range Pouches) will be delivered in time for the December holidays.
Founder Peter Dering  also shared some reflections on Peak Design, its genesis, current growth and future vision:
Many of you have been here since the launch of the original Capture Camera Clip, back in 2011. That campaign almost instantaneously made me realize the dream of being able to work for myself.

Today I look around the office that we've constructed with our bare hands (and Dewalt power tools), and I'm surrounded by creative, intelligent people…most of whom I think of as family. I think I speak for all of them when I say how incredibly grateful we are. We are incredibly fortunate to be in the position we're in, and I promise you we don't take it for granted.

During these past few weeks, we've added new people to the team. Engineering talent and management that will allow us to take on projects of greater scale and complexity.  A new financial analyst that will give us the ability to better plan and predict our future. I'm proud that there will soon be 23 individuals and families who depend on Peak Design for their livelihood.  And there are countless more all over the world who are part of this extended network.

With this growth comes a tremendous sense of responsibility, and new challenges. One of the biggest challenges is to continue growing without it turning into something we didn't sign up for. The whole point of Peak Design was to create a company that allows us to live with the freedom to enjoy all that life has to offer.  A work-life balance, if you will.

We have that balance, but increasingly, it comes with effort. Having grown this from just me hacking away on a beat up Dell to (what-feels-to-me-like) a fairly large operation, I can tell you that the forces of change are strong. Entropy is a real thing, extending well beyond the reaches of thermodynamics.

I consider my greatest responsibility now to be mindful of that force. I am aware of how it can undermine the very reasons we've chosen this career path, and I promise to do what I can to grow things responsibly, without losing sight of what really matters. Because I think that products like these only come from the hearts and minds people who love what they do. Another way of saying this is, we've got a great thing going, and I really don't want to f*ck it up. So I'm gonna try not to.

I share this with you all because of all the things that have enabled this company's success, these campaigns and the backers who take part are the single greatest contributor to our way of life, and I just want to say thanks.
The Everyday Backpack Line campaign closes on 9 September.
___________________________________________________
Have a crowdfunding offering you'd like to share? Submit an offering for consideration using our Submit a Tip form and we may share it on our site!

Sponsored Links by DQ Promote