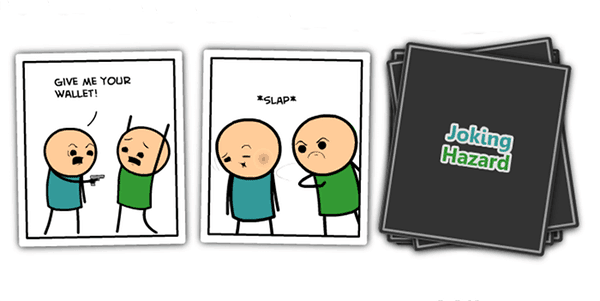 Last week, Cyanide & Happiness announced it was starting to ship its Kickstarter-funded  card game, Joking Hazard. The popular webcomic launched its campaign on the crowdfunding giant's platform earlier this year and raised a grand total of $3,246,588 from 63,758 backers. This made Joking Hazard the second most funded card game on the funding portal.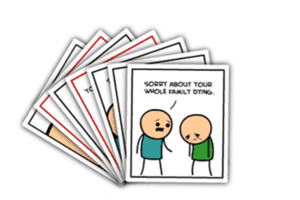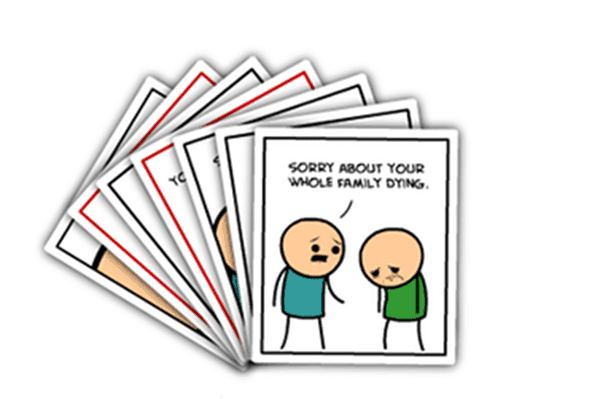 Joking Hazard is described as an offensive card game where each player competes to finish an awful comic strip out of two panels.  One player is considered a judge and everyone else will put their favorite panel for the final part of the comic. Judge will choose their favorite and that will be the winner. The rules of the game are listed below.
Everyone draws seven cards: Players should always have seven cards.
The deck plays first: Judge picks the panel blindly from the top of the draw pile.
The judge plays second: The judge picks the second panel from his own hand and will put it on either side.
Everyone else plays third: The other players give the third panel to the judge face down
The judge picks a winner: The just lays them down on at a time and will pick the favorite
The winning panel will go back to its owner for scorekeeping. The next person will become the judge and the game will continue until a player has three cards. Seems like a pretty easy game that could turn hilarious very quickly. During a recent update, the Cyanide and Happiness team shared details about the shipping process:
"We are using the super rad guys over at Blackbox to fulfill Joking Hazard. These mean packing machines are what happens when the guys at Cards Against Humanity get sick of Kickstarter creators using shitty fulfillment methods and take matters into their own hands. They're experienced with handling big, unwieldy projects. We are excited to entrust them with handling our d*cks with care and sending them over to YOU!"
The crew also noted that once the packages are done being "touched and fondled into position," backers will receive a shipment confirmation to the email address used for Kickstarter. Tracking numbers will also be provided. Unfortunately, addresses cannot be changed at this point.
Have a crowdfunding offering you'd like to share? Submit an offering for consideration using our Submit a Tip form and we may share it on our site!