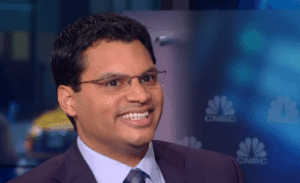 DreamFunded's Co-Founder and CEO Manny Fernandez was invited by the Executive Office of The President to the White House to participate in a round table discussion on possible solutions to fund early stage companies in underrepresented communities in the United States. Attending the meeting was United States Chief Technology Officer and Assistant to the President Megan J. Smith and several other industry leaders. Fernandez was invited for his insights as a leader in the investment community, his experience as an angel investor and as the founder of SF Angels Group.
Shifting gears from the White House to CNBC, Fernandez  will be an investor "Shark" on the network's "Make Me A Millionaire Inventor" airing  tonight, 6 October at 10pm (ET/PT)
 "I am extremely honored to be the first angel investor and equity crowdfunding platform CEO to be an investor on a mainstream major network TV show premiere," commented Fernandez via email.
CNBC's original primetime series "Make Me A Millionaire Inventor" is back for season two tonight. Hosted by Deanne Bell and George Zaidan, "Make Me A Millionaire Inventor" seeks to locate new inventions and bring them to a larger market.  They track down the inventors of potentially successful products, with the offer to "bring their ideas and dreams to life" by giving them the  resources and expertise needed to take their products from concept to reality.
In tonight's episode, the season premiere, Fernandez will be on a panel evaluating two inventions aiming to save lives.  Goldilocks Valves, a device that could revolutionize the way nurses and paramedics perform CPR and the Aqua Blaster, a harness designed to make fighting fires safer and easier for those on the front line, will be spotlighted.