Last week, London-based Moley Robotics debuted its equity crowdfunding campaign on Seedrs. The company is currently seeking to raise 1 million for its new chef robots, and within one week, it has already achieved £700,000 from nearly 120 investors.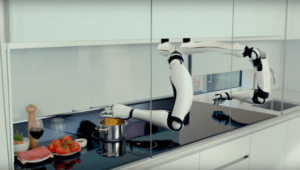 As previously reported, Moley Robotics has created what it claims to be the world's "first fully-automated and integrated intelligent" cooking robot. Each robot is designed to learn recipes, prepare and cook, and even clean up after themselves. The robot also offers a library of recipes from around the world. The robots can create dishes for their owners or even teach them how to make the meals.
The company revealed that operating the robots is fairly simple. Owners select their menus remotely and then let the robots take over. Owners then come home with a meal that's exactly what they wanted, when they wanted it, cooked to perfection. Moley has notably received various recognitions and awards, including its Robotic Kitchen being named "Best of the Best" award at the Consumer Electronics Show (CES) in Shanghai in May 2015. The company added that it believes its robots will transform everyday life in the kitchen.
Following the initiative's launch, the Moley Robotics team revealed why they decided to use the crowdfunding method:
"We believe in a simple, revolutionary idea: that our internet-connected Moley kitchen, robotic arms and all, can create dishes as good as those made by the world's most talented chefs. We've already built a proof of concept prototype. Our invention employs motion-capture technology to trace the movements of the world's top chefs as they prepare their best dishes. Our device's space-age, robotic hands can then recreate those masterpieces — right in your kitchen. We believe that one day, you'll be able to install our cutting-edge technology in your home at a cost that's comparable to a traditional kitchen renovation."
Also explaining what the funds from the Seedrs initiative will be used for, the team added:
"With the funds raised through crowdfunding, we plan to develop a new, complete, industrial-quality, functional workstation prototype for the European market, including utensils and essential kitchen equipment. We will develop further cooking techniques and expand the recipe library to up to 100 recipes. We hope to develop initial infrastructure requirements for control and manage the food supply chain to provide the pre-prepared ingredients to the highest quality in containers designed specifically for the Moley robot."
The campaign is set to close at the beginning of December.
Have a crowdfunding offering you'd like to share? Submit an offering for consideration using our Submit a Tip form and we may share it on our site!