With seven days left until the closing of its wildly popular Kickstarter campaign, Elan Lee and Matthew Inman's new card game Bears vs Babies has secured more than $2.4 million from over 64,500 backers.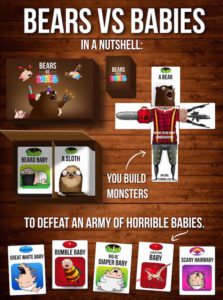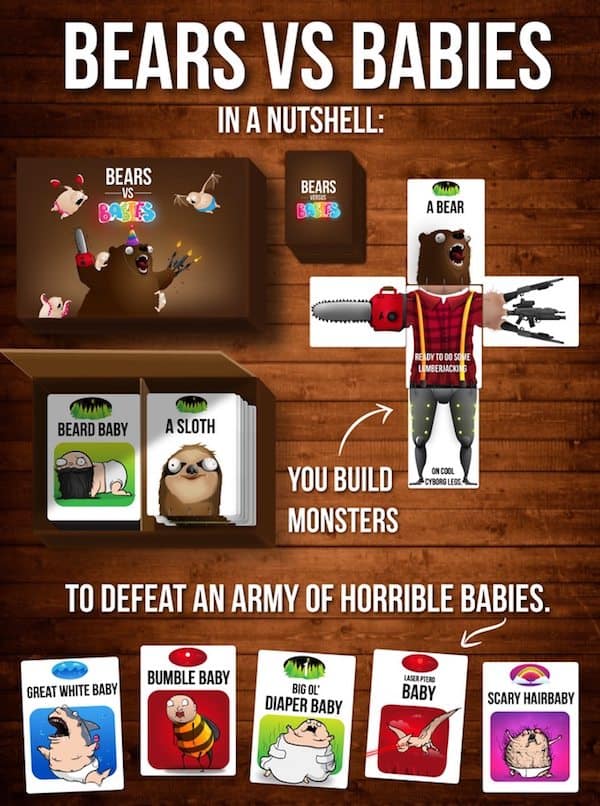 Bears vs Babies is a card game with one goal: for players to create monsters that go to war with babies. Players sit in a circle and draw cards. Each player picks two types of cards (bears and babies). Bears are to built and will include heads, torsos, arms, and legs. Babies are played immediately into the center of the table. They will form a baby army, which must be stopped by all players in the game. Players will go to war by provoking babies. If the monster is stronger than the babies, they will win that battle and eat those babies. If babies are strong than creatures, they will win and the players' army will be devoured.
Inman previously explained that Bears vs Babies has been in making for the past few years. The original game was notably a doodle onto paper cutouts and had no functioning game mechanic other than creating funny-looking characters:
"Up until this point, my version of the game had a big problem:  when you played, you were on autopilot. You had no decisions to make and usually one correct action to perform on every turn.  Elan has been designing physical and digital games for most of his career (he invented the genre of alternate reality games, and was formerly the creative director of the Xbox), so he put his gargantuan puzzle-solving brain to work and added a layer of much-needed complexity to the game."
Inman then noted that Lee established basic rules of "conflict, construction, and escalation mechanic" for the core gameplay:
 "The tricky part was keeping this simple enough to be a party game, but complicated enough to allow for depth and strategy. It's easy to fall into two bad categories when designing tabletop games: either they're easy to learn but completely random, or they're very strategic but mind-numbingly boring. You have to walk a very thin line between the two. I think with Bears vs Babies we did that."
In a recent update, Lee and Inman announced they are using Kickstarter's new live video feature for a Bears vs Babies' design session. It will be held later today and can be accessed through here. The campaign will close on November 17th.
Have a crowdfunding offering you'd like to share? Submit an offering for consideration using our Submit a Tip form and we may share it on our site!