California-based eyeCam, Inc. has successfully secured $1.5 million in reservations through Crowdfunder. The startup was originally seeking $500,000 for its wearable platform.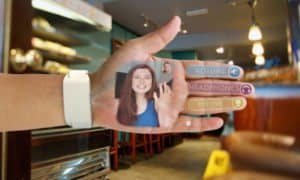 The company stated its patented 3-D interfacing and adaptive display system would change the way consumers use wearables to communicate, perform tasks,  and interface with the world, while on a secure platform protected by a cutting-edge biometric identification system. eyeCam is currently developing the prototype of eyeHand The Wearable Smartphone. As previously reported, the eyeHand team consists of firmware, software, UI and multimedia design, engineering, legal and IP professionals and the device's 3D imaging, interfacing, operating, networking and biometric identification systems are being developed for additional products and services. Features of the eyeCam include 3D mouse and controller, biometric key and watch, IoT command center, sports tracker and health and fitness monitor.
Bryan Davis, CEO of eyeCam, explained:
"eyeCam is an innovation company that designs and engineers products for other companies to manufacture and sell as their own," said . "Our unique approach of providing companies with emerging products and technologies means that they can quickly and affordably acquire the assets they need to succeed."
Speaking about eyeCam's success, Chance Barnett, CEO of Crowdfunder, noted:
"We're thrilled that eyeCam has been able to tap into the Crowdfunder network to find funding partners that have a passion for this innovative platform. At Crowdfunder, we're focused on supporting the goals of innovative companies like eyeCam by connecting them with investors, customers and product enthusiasts who are looking for ways to fund those projects that they see as game-changers."
Davis went on to add:
"We're encouraged by recent news of companies like Google, Intel, Alibaba, and Facebook increasingly investing in wearables, biometrics and 3-D interfacing technology, as we see these as the three pillars for the future of consumer and enterprise products. By leveraging Crowdfunder's extensive network of vetted investors, we're a major step ahead in funding the development of our platform."
Have a crowdfunding offering you'd like to share? Submit an offering for consideration using our Submit a Tip form and we may share it on our site!