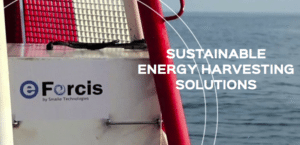 Smalle Technologies has developed the eForcis, an electricity generator especially designed for buoys that culls electricity from the ocean and sea waves. especially designed for buoys. eForcis aims to deliver constant and reliable energy supply leveraging simple electromagnetic principles, studied and tested under challenging marine conditions in which current electricity solutions do not work well. Around the world thousands of buoys are moored with very different purposes: weather forecasting, marine signaling, conducting oceanographic studies, detection of tsunamis, exploration of locations for offshore wind farms, etc. The problem remains that these buoys need power, which is usually obtained through solar panels and batteries. Enter Barcelona-based Smalle Technologies's solution, eForcis.
The tech company, helmed by CEO cofounder 
Héctor Martín, has moored with Crowdcube Spain and is currently overfunding, reaping over 240,500€ for 11.78% equity from over 155 investors during its crowdfunding campaign.
Founded in July of 2012 by four professors and two entrepreneurs with the aim of developing and marketing a patent of generation of energy from the movement of the University of Barcelona and CSIC, Smalle Technologies won the first prize of the program Ecoemprendedor XXI in 2012, was selected by the Fundación Repsol for its entrepreneurs Fund in 2013, nominated for the European Institute of Technology European awards in 2013, and has done 2 rounds of private investment (2013, 2015), including investment from the KIC InnoEnergy business Accelerator. In addition, Smalle Technologies has secured funding from the Centre for Industrial technological development (CDTI), the national company for innovation (Enisa) and the European Commission (phase I of the SME Instrument, program H2020). In total, the startup has managed 417,000€ of private investment and 400,000€ of public funding.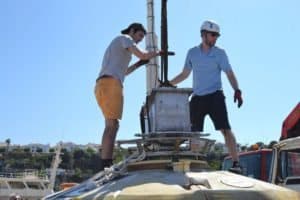 The eForcis aims to be a simple and robust power generator that is encapsulated in a sealed enclosure (IP67) preventing water, wind and salt contamination, thereby preventing marine corrosion with little maintenance. The box can be installed on top of any buoy, taking advantage of its movement for battery  recharging. The eForcis can replace or complement to solar panels, contributing to guarantee the supply of energy in the buoy, saving on the number and capacity of batteries required, either by reducing the number of visits to buoys, visits which in many cases can become extremely expensive. In addition, the eForcis is scalable: increasing its size can increase the energy produced.
Smalle is also developing BeForcis, which consists of a buoy with a generator, that can anchor in any farm, beside the cages for fattening, and generate enough energy to power consumption of various sensors or underwater cameras, as useful in the aquaculture sector. To date, more than half of the fish consumed worldwide comes from farm.
"Farmed fish is the most viable and sustainable choice to produce the proteins necessary to feed the 9 or 10 billion people estimated that they inhabit the Earth in 2050. Currently, fattening farms are located in the sea, and increasingly tend to move farther away from the coast, since they don't have to compete with tourism to locations, to cleaner water in order to produce better fish, and be more environmentally sustainable. These fish need energy for various activities, primarily to launch fish feed, feeding different sensors (temperature, oxygen, currents, etc.) underwater cameras or lights."
Secured funding will be used to refine and market the BeForcis for fish farms around the world. Smalle's strategy in the aquaculture sector will consist in distributing product through AKVA Group (the largest distributor of technology for aquaculture in the world) in those countries in which this group has a strong presence and sell directly. For financial information and more campaign details, please click here. Smalle Technologies' campaign ends 6 January 2017.

__________________________________________


Have a crowdfunding offering you'd like to share? Submit an offering for consideration using our Submit a Tip form and we may share it on our site!

Sponsored Links by DQ Promote