Credit China FinTech Holdings Limited, an integrated fintech service provider in China, was announced as a founding member of the newly developed organization, Global Blockchain Business Council (GBBC). Credit China FinTech is reportedly one of the 25 founding members of the GBBC and is considered the only member from Hong Kong.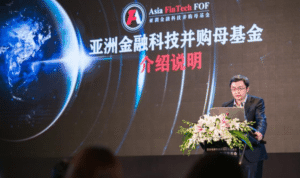 On Tuesday, blockchain technology company Bitfury and international law firm Covington announced the launch of GBBC at the first blockchain forum of the World Economic Forum in Davos. According to the companies, the GBBC brings together the world's leading business leaders and international government institutions to highlight the latest innovations and advances in Blockchain technology. Phang Yew Kiat, vice-chairman and chief executive officer of Credit China FinTech, stated:
"It is our pleasure to represent Hong Kong, China, to be the founding member of the GBBC together with the world's top business leaders. With the help of Credit China FinTech's capabilities and advantages in China and Southeast Asia FinTech industry, we aim to build a better environment for the development of Blockchain technology to be applied in global commerce, communications, financial services, intellectual property, and other areas."
Credit China FinTech notably has more than 21 million users in its fintech ecosystem and has processed over RMB 800 billion payment transactions in 2016. Recently, the company, along with China Huarong International, Shanghai Xinhua Publishing Group, Jilin Province Investment Group, launched the Asia Fintech Merger and Acquisition Fund with more than RMB 10 billion (approximately $1.44 billion) in value.