Ira Steven Behr, the showrunner for the hit sci-fi series Star Trek: Deep Space Nine, launched a crowdfunding campaign on Indiegogo last week for his documentary on the show, What We Left Behind: Looking Back at Star Trek: Deep Space Nine.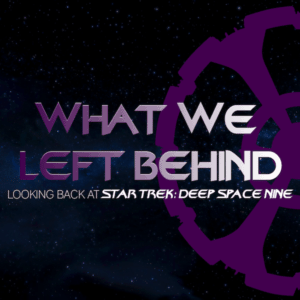 The story behind the documentary reads:
"Star Trek: Deep Space Nine first aired in January 1993 well over a year after the death of Star Trek creator Gene Roddenberry. When compared to The Original Series and The Next Generation, Deep Space Nine was written off as too 'dark,' 'edgy,' and 'the black sheep' of the Star Trek family, a show that did not fit Roddenberry's vision of the future. But someone was still watching as the show lasted seven seasons. Now, over twenty years later, fans all over the world are rediscovering Deep Space Nine and embracing the show with an enthusiasm rivaling the affection they feel for any other Star Trek series. Critics are even calling the show the Jewel in the Crown and the best of the Star Trek franchise. A devoted sci-fi fan might rightly ask themselves; 'What the hell happened?'"
The documentary will explore the series and will notably consider the reasons why Deep Space Nine went from a family outcast to a Star Trek "mainstay." Leonard Nimoy's son and director of the crowdfunded documentary For the Love of Spock, Adam Nimoy will return to the director's chair for the Deep Space Nine documentary. Actors from the series, including Nana Visitor, Terry Farrell, Rene Auberjonois, Armin Shimerman, and Alexander Siddig, will also be a part of the documentary's production. It was revealed:
"You couldn't make a Deep Space Nine documentary without talking to a few of the actors. So we spoke to a few, then a few more, and a few more after that. We have been fortunate to have wonderful participation across the board from principle cast members to the people that brought our favorite reoccurring roles to life."
Those who back the project will receive various perks, including digital stream, pin sets, Blu-ray, DVD, posters, film credit, name on website. Estimated delivery for the documentary is currently February 2018. Originally seeking nearly $150,000, the documentary has already secured close to $250,000 from 3575 backers. It is set to close next month.
___________________________________________________
Have a crowdfunding offering you'd like to share? Submit an offering for consideration using our Submit a Tip form and we may share it on our site!