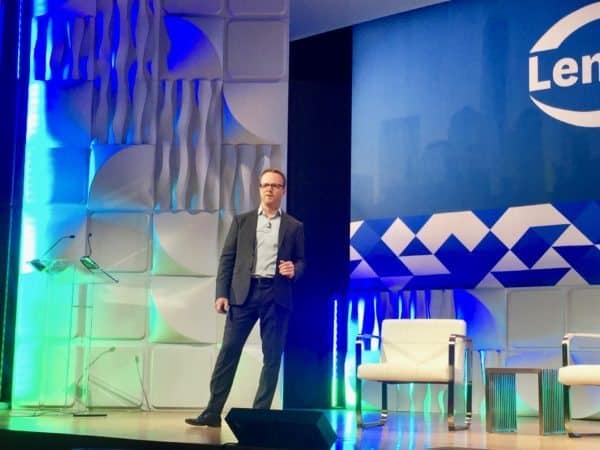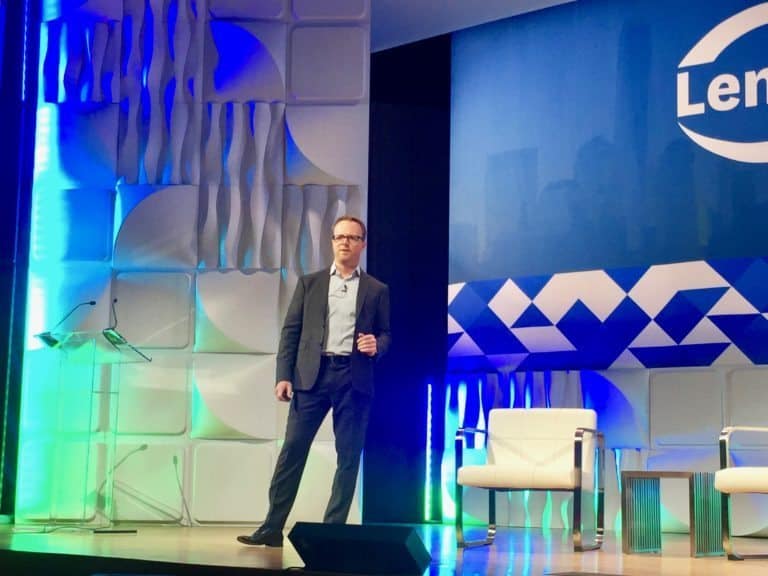 ---
LendItUSA, the annual event that jumps between New York City and San Francisco everu 12 months, opened up to larger audiences and an industry sector that endured a challenging year. The online lending sector received a two-punch assault in 2016; a battle that left the sector dazed but not down.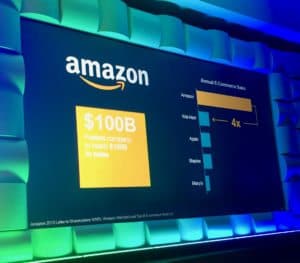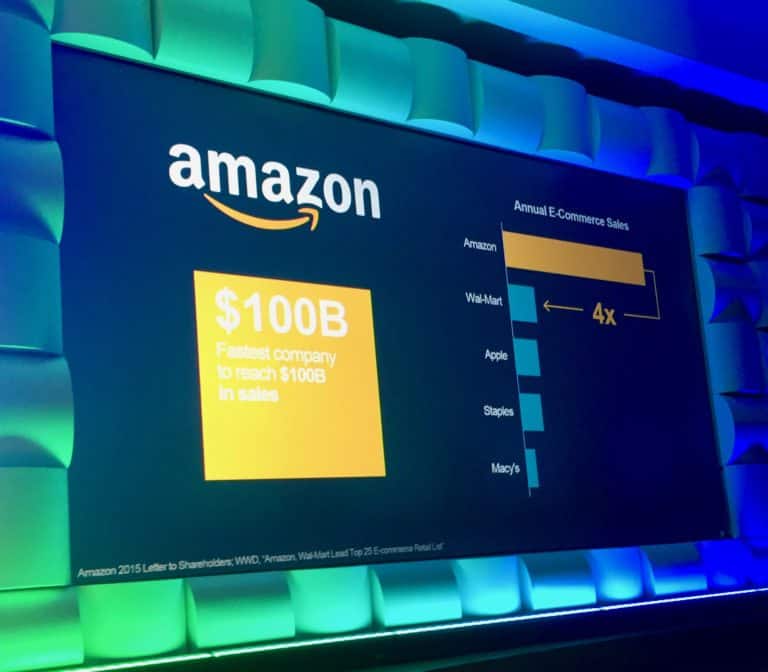 Questionable economic signals and the unexpected departure of Lending Club founding CEO in May, an industry icon, caused investors to question the viability of online lending. Institutional money beat a hasty retreat and lending platforms went scrambling for sufficient capital to satisfy borrower demand. At LendItUSA in San Francisco in 2016, Canaan Partners GP, and Lending Club Board Member, Dan Ciporin presented on the need for capital diversification and the stickiness of retail money. Ciporin must be psychic.
This year's LendIt started with a presentation by Lending Club CEO Scott Sanborn. Exuding confidence and creativity, Sanborn proved to be the executive that Lending Club desperately needed when the going got tough – the Board of Directors made the right decision.  So what now?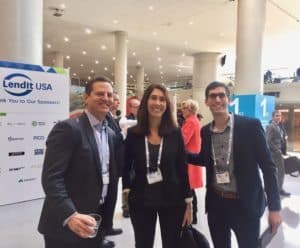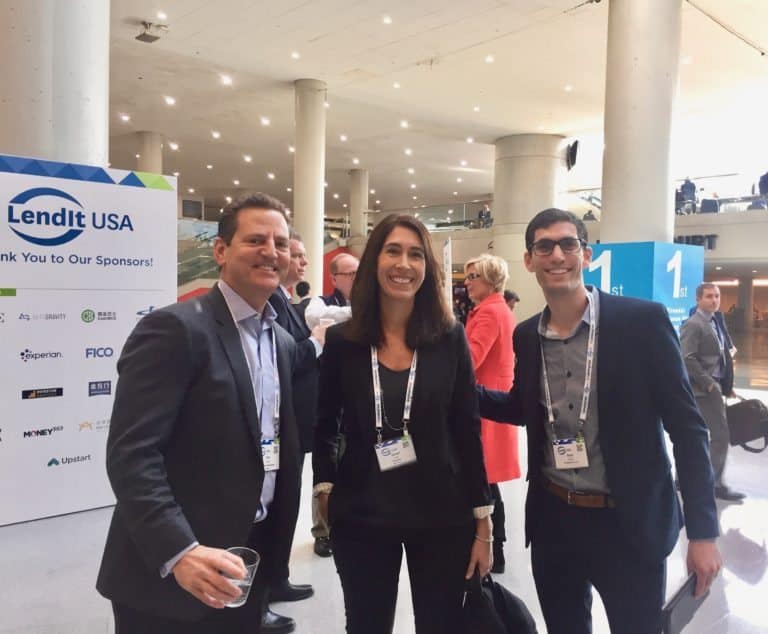 Sanborn said they were in it to win it and 2016 was not a destination but a stop along the way to success. Drawing a parallel to online retail, Sanborn reminded us that back in the day the punditry questioned the viability of Amazon. Highlighting a quote in Baron's in 1999 stating; "once Wal-Mart decides to go after Amazon, there is no contest. Wal-Mart has resources that Amazon can't dream about." Well, we all know now how that worked out and online lending is still very young.
Ron Suber, Prosper President and perhaps the biggest champion of the online lending sector, again hit the stage of LendIt to give a rousing speech. Suber told the audience, "we are building an industry to last."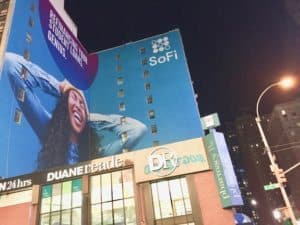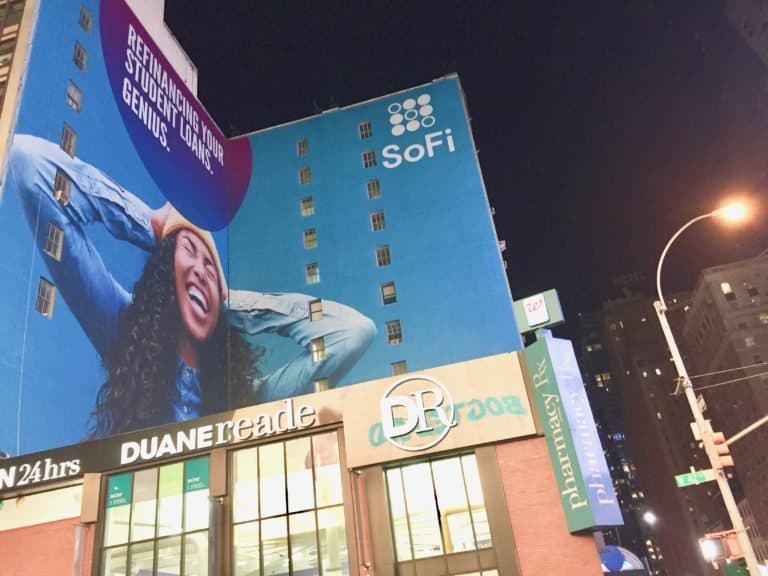 While Prosper, Lending Club, and other well-known online lenders attended LendIt in force, there were notable absences and reductions.  SoFi, a company that has raised billions from investors as it re-invents the entire financial services ecosystem, was barely present. Yet a few blocks down the street on West 42nd Street, SoFi raised their flag with an enormous billboard. Always the iconoclast.
Below are some quotes from various speakers who participated at LendIt USA 2017: a representation of the sentiment and opinion from industry participants and policymakers.
---
"As tough as last year was, some amazing things happened. Despite our challenges. Lending Club issued $8 billion in personal loans last year."
"International expansion: Not a question of if but when. Near term focus is in the US."
Scott Sanborn, Lending Club CEO
---
"We cannot compete with banks on cost of capital but we can compete everywhere else."

"Our operating costs dome down because we are a tech company. They continue to go down. If you are running a tech company you don't have to lay people off because you don't have too many employees, your business scales."
Rob Frohwein, Kabbage CEO & co-founder
---
"If you are in Fintech and you want to make certain you are compliant where do you go? Do you know who your regulator is? What is your legal and compliance cost? These are major things you have to deal with. Who do you deal with in Washington? The regulars are so behind in understanding technology, they do not know how to apply regulations to Fintech."
Congressman Patrick McHenry
---
"In financial services, transparency through technology will result in less product sold and more advice."
Jon Stein, Betterment CEO and co-founder
---
"Last year, for the first time, we saw some skepticism. But we are building an industry that is built to last."
Ron Suber, Prosper President
---
"We will be issuing charters to Fintech companies engaged in the services of banking… Can we grant charters? Do we have the authority? Yes, we have the authority to issue charters to companies engaged in banking. A bank does not need to take deposits to qualify for a national charter."
Thomas Curry, Comptroller of the Currency
---
"We recognize that data access makes it possible to realize the many benefits of competition and innovation. We will be drawing heavily on the technological expertise and insight of the various stakeholders, and we will test their arguments and explanations directly against one another."
Richard Cordray, Director of the Consumer Financial Protection Bureau
---
"Today you think lending is big in China, but actually, if you look at outstanding balances of consumer finance market, for example, if you look at 2016, online lending is only a small portion of the market size."

"[Online lending] is serving the needs of the huge under-served demand for people getting access to money…"
Yihan Fang Yirendai CEO
---
"…securitization satisfies all of these traits and not surprisingly we have seen dramatic growth. What securitization enables originators to do is by separating the credit risk of the collateral they generate from the originators going concern and corporate credit risk they are able to access much lower cost capital by transforming pools of loans that are illiquid into marketable securities that can be placed into the vast capital markets where thousands of ABS investors exist…"
Ram Ahluwalia, PeerIQ CEO and Founder
---
"Fintechs aren't going to win and banks aren't going to win. Companies that figure out to get the right kind of balance are going to win."
Nigel Morris, QED Investors Managing Partner
---
"I really believe we are still very early. Possibly the bottom of the first or the top of the second inning. We are seven years old and just completed $100 billion of funding since inception … we have averaged over 70% year over year growth for the last seven years. We are currently the second largest non-bank consumer lender in the marketplace. All that sounds fairly impressive. But the opposite way to look at this is also the fact at being number two we are actually less than 2% market share."
Anthony Hsieh, loanDepot CEO and founder
---
"There is one pillar of Fintech that is very close to my heart that I really don't want to see it being neglected. That is technology. I would love to see more people from a technology background participate in these companies. I think for the last couple of years, we start to hear more about finance than technology. Finance is great but I don't think as Fintech we can bring into finance what finance has brought to itself. With technology, we can make a difference."
Soul Htite, Dianrong CEO and founder

Sponsored