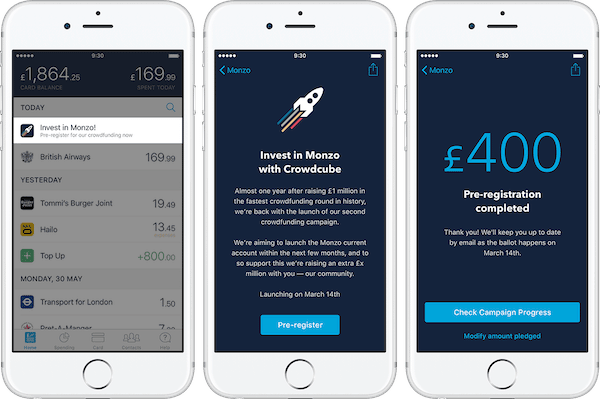 App-only bank Monzo (formally know as Mondo) has completed the pre-registration portion of its second equity crowdfunding campaign. The company sought to raise £2.5 million, and by the end of the pre-registration round, it secured £12 million. A total of 41,267 people pledged to invest.
More than £12 million pledged from more than 40,000 people! Thank you ♥️ https://t.co/2Kix462ecn pic.twitter.com/lzn620mgmJ

— Monzo (@monzo) March 14, 2017
Monzo launched its first crowdfunding campaign on Crowdcube last year and quickly captured £1 million from investors in an incredible 96 seconds. The company saw 1,861 individuals invest on average £542. The app-only bank revealed this new funding round, which will also be on Crowdcube, is the final part of its most recent investment raise of £22 million. The pre-registration round, which kicked off on February 28th, quickly gained the initial £2.5 million funding goal and the Monzo team announced it would be running a random ballot for selected investors:
"If you're successful in the ballot, you'll receive an email with a link to our Crowdcube pitch page and you'll have 48 hours to complete your investment through Crowdcube. If you don't complete within 48 hours, we'll open your space up to another person from the random ballot."
The team also noted that existing investors are automatically eligible to invest again during the second Crowdcube campaign:
"You'll still need to pre-register and pledge the amount you'd like to invest, but you won't enter the random ballot. On March 14th, we'll email you with full details on how to complete your investment through Crowdcube."
Following the closing of the pre-registration round, Monzo declared:
"Once the ballot is complete, Crowdcube will begin contacting the winners by email and giving them access to our pitch page so they can invest. After those emails have been sent, the winners will have 48 hours to complete their investments, failing which, their places will be given to other people from the ballot who will have the same chance to invest. The emails will go out slowly over the coming days so don't panic if you don't receive anything immediately! Once the round has been filled and there are no more spaces, we'll email everyone who wasn't picked to let them know, which means until you see that email you're still in the running. We hope to contact everyone within the next two weeks."
Those interested can follow the progress through Monzo's Twitter account. Monzo added that the latest campaign's funds would be used for expansion and it plans to double its current staff of 85 over the next year.
Have a crowdfunding offering you'd like to share? Submit an offering for consideration using our Submit a Tip form and we may share it on our site!