On Thursday, Ironward completed the crowdfunding round on Fig for its new video game Solstice Chronicles: MIA. Originally seeking $30,000, the project successfully secured $30,900 from 512 backers. Solstice Chronicles: MIA is set int he year 2280 AE and the game belongs in the same universe as The Red Solstice, Ironward's Kickstarter success. Players find themselves behind enemy lines in the midst of an infected colony on Mas and are noted to be Missing in Action (MIA).
"You play as a Corporation Marine trying to escape, working with an unusual Insurgent AI drone whose special abilities will aid you and significantly impact the game's difficulty. At your side is Saffron, an unusual drone made by the Insurgency, and an unlikely companion for a Corporation Marine. She acts as a true AI: she has emotions and may snap under stress. You must work with this drone in order to survive, getting to know her story as you discover your own."
Solstice Chronicles: MIA will include:
Players will have master fluid twin-stick combat to blast through waves of mutants on Mars.
Use the player drone's abilities tactically, weighing the risk and reward of decisions that drastically change the threat you face.
Players will decide between scavenging for supplies and upgrades in the face of the oncoming menace, or pushing forward, potentially unprepared for the enemies still to come.
Players will decimate the mutant onslaught with upgradeable weaponry, including shotguns, rocket launchers, and more, as well as special heavy weapons, like the autocannon and flamethrower, which will obliterate everything in their path.
Player develop their own skill tree from across four classes, which areAssault, Demolition, Hellfire, and Terminator, to become the ultimate instrument of destruction.
Local co-op multiplayer.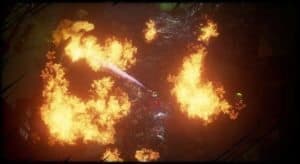 In the recent update, Ironward shared info about backer's ALPHA access, which will be active for backers within a month. The studio noted that Alpha will initially feature survival mode where players will be able to:
level up your character
level up your weapon
acquire new skill points and weapons
activate relays to get resource "POWER"
 build objects and barricades and use "POWER" to enhance those objects(radar, wired explosives, seismic resonators, turrets, etc.)
90% of the monsters that are in game will be playable and ready to kill you(over 20 different monsters)
The full game is expected to be delivered beginning the third quarter 2017.
Have a crowdfunding offering you'd like to share? Submit an offering for consideration using our Submit a Tip form and we may share it on our site!