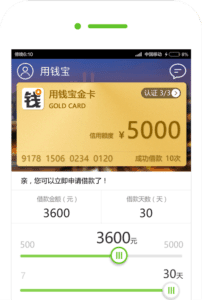 A Chinese startup has announced that it is in the process of creating new software that will render loan officers obsolete. They plan to use data-mining algorithms to offer 24/7 automatic credit available from anywhere.
Yongqianbao, which literally translates as "needing money pal", solution is an artificial intelligence-based program that evaluates over 1,000 different elements, including how often the applicant charges their phone or whether or not their contacts return their phone calls.
The Chinese startup asserts that they have discovered over 1,200 characteristics that have a significant correlation with a client's willingness and capability to repay debts.
Yongqianbao named their engineering model Conan, after Sherlock Holmes author Sir Arthur Conan Doyle, as it trains the machine to become a detective.
Yongqianbao has nearly completed the C round of financing, and has attracted investors including Sinovation Ventures, which was co-founded by Kai-Fu Lee, a former Google and Microsoft executive.
The company targets the majority of Chinese citizens under-served by traditional banks. Jiao Ke, the CEO of Yongqianbao, explained the market in China for his new product:
"While traditional finance serves 70 to 80 percent of the population in Europe and the United States, the figure is only about 15 percent in China … The core issue lies in that risk control technologies are outdated among traditional financial institutions in China. Data beneath the tip of the iceberg that exists on everyone is a hidden treasure."
Jiao claims that their investors' confidence stems from their belief that the Chinese fintech sector will outpace the United States.
"The country has been offering remarkable soil."
The CEO also believes that traditional finance's predominance in the United States market limits Fintech startups to mostly high-risk customers. Meanwhile, China is prepared to accept and embrace new, generation-skipping revolution, listing the rapid growth of mobile payment as his example. According to a recent study by the World Bank, just 16% of Chinese citizens own a credit card.
"The U.S. has a strong credit card history, therefore customers are not as strongly motivated as their counterparts in China to leap from paying in cash to paying via phones."
The rapid growth of the Chinese economy, the country's acceptance of new technologies, and the limitations of the US market force investors to question what fintech companies they should devote their money to. Only time will tell if the Chinese market will live up to its monstrous potential.

Sponsored Links by DQ Promote