On Tuesday, The DICK's Sporting Goods Foundation and CALIA by Carrie Underwood announced they have teamed up to fully fund girls team sports projects on education crowdfunding platform, DonorsChoose. The organizations will pledge $200,000 to go towards an estimated 100 teams across the country throughout the month of May.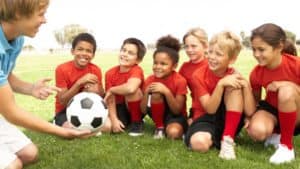 The organizations revealed that the pledge marks the third Sports Matter donation on behalf of CALIA by Carrie Underwood and The DICK'S Foundation, as a part of its broader $500,000 commitment to support girls youth sports across the country. Two grants were previously awarded in 2016: $100,000 to Underwood's alma mater, Checotah (Okla.) School District's Girls Athletic programs and $100,000 to Aldine Independent School District's Girls Athletic programs in Houston, Texas.
CALIA's Lead Designer, Carrie Underwood, shared:
"Sports were a big part of my life growing up, so it's important to me that girls across the country get those same opportunities. Through Sports Matter, CALIA and The DICK'S Foundation, we are empowering hundreds of girls across the country to learn, grow and dream, teaching them to do what they love later in life."
The organizations went on to add through its Sports Matter program, DICK'S Sporting Goods and The DICK'S Sporting Goods Foundation made a multi-year $50 million commitment to raise awareness and supported low financed youth sports programs.
To date, thousands of teams and leagues have been supported by DICK'S and its Foundation's efforts to champion local youth sports.