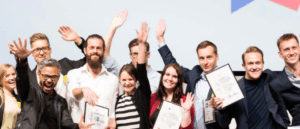 Typically it is the traditional bank investing in, or acquiring a promising Fintech firm. But in this case it is the other way around. Danish Fintech firm Clearhaus has purchased a 33% stake in Copenhagen Cooperative Bank to adjust its business model.
Clearhaus explains that presenting e-commerce companies with a solution that integrates traditional banking and online payments they can minimize the friction for merchants in the sign-up process of opening a traditional bank account or applying for a loan.
"Our interest is in closing the gap between traditional banking and acquiring. Clients will be able to see where they stand banking-wise without delay based on their transaction activity. We want to issue cards as well", stated Clearhaus CEO Claus M. Christensen. "We are hoping to obtain a market share of 10% in the DACH region within 12-18 months."
Clearhaus currently provides online businesses with the possibility to accept Visa and Mastercard payments in their websites while managing their merchant accounts. The company says it holds roughly 20% of the Danish market after only 21 months of operations, dethroning the monopoly holders Nets/Teller. Clearhaus is working to develop an "all-in-one" solution, which integrates both banking and payment services.
"Businesses waste time, for example, when applying for a loan because they have to retrieve their transaction data from acquirers. With our new business model, this will be automated. We will be able to give the go/no-go at a record pace," added Christensen.
Clearhaus says it has over 7,500 clients in 29 countries across Europe. Its clients are mainly small and medium-sized e-commerce businesses.