One of the world's leading accelerators for Fintech Startups, Starupbootcamps, announced their first round of companies that will join their inaugural program in Mumbai, India. These startups beat out nearly 300 other companies from Asia, Africa, Europe, and the Middle East.
Since its launch in 2014, Startupbootcamp Fintech has become a world leader. It hosts programs in London, New York, Singapore, Mexico City, and now Mumbai. This new program is India's first global accelerator for Fintech startups and is backed by ICICI Bank, ICICI Lombard, RBL, Capital First, AZB and Partners, and PwC.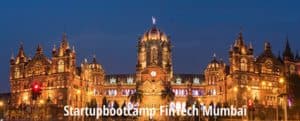 The 10 startups will have access to leading Indian financial corporations that can assist with with pilot customers and market data. They will also have the opportunity to utilize Startupbootcamp's connections with mentors and investors to create the best advisory board possible.
In addition to these resources, each team will also receive €15,000 and three months of free office space. During this time, they will go through intense acceleration and end with a company presentation to over 500 investors and industry experts at Demo Day.
Startupbootcamp's Managing Director, Adrian Johnson, said:
"India is the fastest growing economy in the world today, and Startupbootcamp's expansion into the country aims to build on this momentum. We specifically decided to venture into India with our Fintech accelerator because our global FinTech programs had been witnessing significant participation from Indian companies, with some of the most unique innovations intended to address the financial need-gap of the Indian economy. We are really excited about this years' cohort. We will be focusing on giving them the foundation to enhance and scale their business models and make them market-ready at the end of three months, with the support of our rich network of mentors, partners and industry experts."
Abhay Hawalder, an Advisory Director and General Atlantic, noted the impact that accelerators have on a startups journey:

"Entrepreneurship is one of the loneliest professions in the world and entrepreneurs always feel the need for company of their own kind. Startupbootcamp has touched the lives of many such entrepreneurs globally, and brings with it the richest insights and industry information to benefit its expanding family of startups. The FinTech Mumbai Cohort brings together more such companies, that possess a distinct understanding of the challenge they aim to solve with technology and the ambition to make it happen. I look forward to interacting with each of the ten selected startups over the next few months, to familiarize them with the nuances of building a platform for financial services in the Indian FinTech ecosystem"
Startupbootcamp described the 10 winning startups in their press release as follows:
Doboz Solutions: A platform that digitizes the gifting experience to buy, share and exchange digital gift cards
ExpoWealth: Access to direct mutual funds along with various analytical tools to help users make informed decisions and invest in few clicks
GiftAssets: Online platform to gift mutual funds and ETFs
GreenDeck: Cash flow monitoring for businesses to manage their income, expenses and transactional analytics
RuPie: Alternative lending platform, which provides loans for personal and small business needs
Bitgram: A unified intelligence platform for digital transactions enabled by blockchain technology
ManageMyFortune: Robo advisory based curated marketplace for retail investors to find based on their past performance, client ratings or industry experience
Propelld: Educational Finance Platform
QuikkLoan: Credit scoring analytics based online loan marketplace, facilitating loans and other financial products
Zilra: Innovative cross-border remittance service
Sponsored Links by DQ Promote