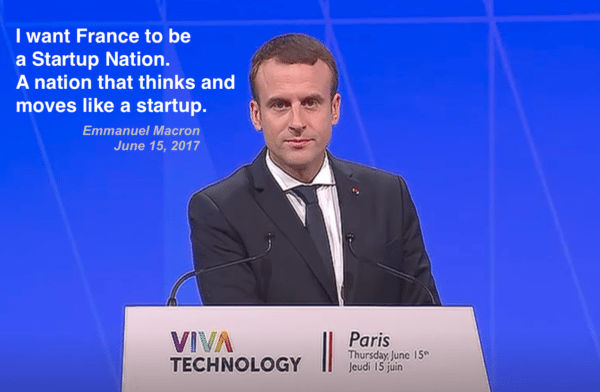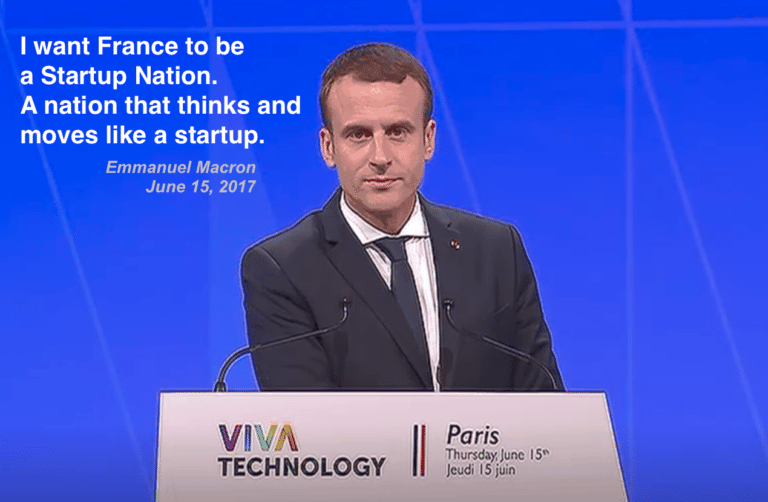 Yesterday the President of France, Emmanuel Macron received a standing ovation from an audience of tech startups and large businesses at Viva Technology. He spoke of France as a startup nation embracing hyper-innovation, of a revolution, a complete change of mindset. He shared his vision of the State as a platform supporting a future entrepreneurial France, ready to drive the country's digital transformation and its energy transition. In praising entrepreneurship and technology, however, the President did not relinquish his social and political agenda to build an inclusive and open 21st century democracy within a strong Europe.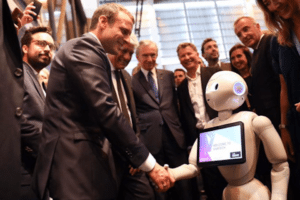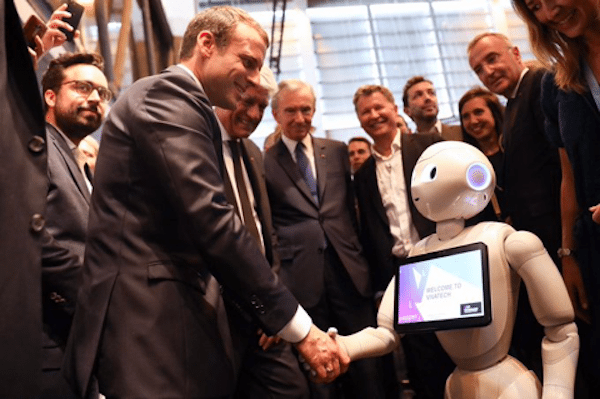 Part tradeshow and conference, part consumer show, Viva Technology is an event at which large corporations such as telecom operator Orange, luxury Group LVMH and bank BNP Paribas present their technology innovations along with those of technology startups they work with or simply support. Organized by communication group Publicis and media group Les Echos, this event, in its 2nd edition, is expecting 5,000 startups and 50,000 visitors. The conference lines up no fewer than 400 speakers, including international names such as Daniel Zhang, the CEO of Alibaba and Eric Schmidt, Executive Chairman of Alphabet, alongside solar-power flight pioneer Bertrand Piccard of Solar Impulse.
Together with the Minister of Education, Frédérique Vidal, and the Secretary of State for Digital Affairs, Mounir Mahjoubi, President Macron made a prolonged visit of the exhibition hall before taking the stage at the main conference hall. He was introduced there by Spencer Reiss with these words:
"Many countries have startups, France is the only country with a startup government."
Spencer Reiss was referring to Emmanuel Macron's blitz ascent to the presidency – creating a party from scratch, winning the elections and building a government within a year.
The President opened his speech by congratulating the audience:
"I am very proud of you," he said. "Neither a President nor a government can bring change about. You can change things. When I speak of an entrepreneurial France, I speak of what you do."

An Ambitious Vision
Emmanuel Macron said he has great ambitions for France. He feels that his election is the expression of a momentum for change.
"The choice has been made. French people have expressed their will: France will be the country of entrepreneurship and innovation."
France is to become a startup nation and it shouldn't stop there:
"I want France to be a start-up nation. A nation that thinks and moves like a start-up."

"I want it to be a country of unicorns, too."
To that end, he calls for a change of mindset:
"We must change our "small-is-beautiful mindset." If an entrepreneur is successful, we are envious, we criticize, and impose taxes on him. But successful entrepreneurs help others succeed."
In the same vein, France must create an environment where entrepreneurs have both the freedom to succeed, and the right to fail.
In his view, a new France that can emerge from embracing innovation rather than from looking back. The French social and economic system was designed in a world that was rebuilding itself from the war. The world is now a different world of hyper-innovation.
One cannot constantly ask the same people to make more efforts to preserve the system, when those efforts repeatedly failed, he said. One must instead explain to them, in all regions and sectors, even the most traditional ones such as food, that they can succeed by embracing change and innovation, with two priorities: the digital transformation of the country and its transition to renewable energies.
The President is confident that France can succeed in its transformation because it is a country of many talents, with among the best engineers, entrepreneurs and scientists in the world.

Removing barriers to entrepreneurship
President Macron said that he is committed to lifting the barriers to entrepreneurship, to helping businesses succeed "better, faster, in the country, and globally."
He wants a regulation and taxation system that nurtures champions, instead of driving them away as is too often currently the case. A system that fosters capital investment and encourages entrepreneurs and investors to finance the productive economy. In accordance, the next financial law of the government includes:
A €10 billion investment fund dedicated to innovation.

A taxation reform: 

Lowering taxes on capital gains to an attractive 30% (capital gains' current marginal tax rate and social benefit taxes amount in total to more than 62%).

Encouraging the reinvestment of capital gains.

Limiting the wealth tax, currently applicable to all assets, to non-productive real estate assets.
In the same vein, Emmanuel Macron expressed his commitment to helping remove barriers at European level. The European Single Market must also be a Single Digital Market:
"A French start-up must have access to a market of 27 countries."
The State as a Platform
Part of France's cultural revolution is a change in the role of the State.
"I do not want a State that regulates everything in minute detail, but a State which supports people. This is a profound revolution."
The State itself must learn, support, innovate. Here Emmanuel Macron presented an interesting vision of a State-as-a-platform:
"The State must be a State platform which transforms its processes into applications and solutions."
[clickToTweet tweet="President Emmanuel Macron of France is committed to lifting the barriers to #entrepreneurship #StartupNation" quote="President Emmanuel Macron of France is committed to lifting the barriers to #entrepreneurship #StartupNation"]
Macron warns entrepreneurs not to forego solidarity and inclusion
If you think that President Macron is only pro-business, rethink. Emmanuel Macron was part of the previous socialist government. For him, 21st century democracy must be built on solidarity and inclusion. According to him both the Brexit vote in the UK and the election of Donald Trump in US expressed a protest against a lack of solidarity and social inclusion. People will not tolerate any more that small elites monopolize wealth and power, he warned.
He appealed to entrepreneurs to take on their share of social responsibility.
"Your freedom comes with great responsibilities. You cannot be cynical… You can get rich, but don't become greedy because society does not accept it anymore."
Solidarity should not stop at the national borders:
"Your success is not yours only. It must be the success of your next-door neighbor; too; as well as the success of your far away neighbor across the world."
New technologies and new business models such as crowdfunding must help create this 21st-century democracy.
Calling on Entrepreneurs and Innovators from all over the World
Throughout his speech Emmanuel Macron repeated that France wants to attract talents and entrepreneurs from around the world – including bringing back the French entrepreneurs who left. He wants them to know France as an environment where they can succeed.
He announced the official launch of the French Visa, a simplified, fast-track procedure that enables international tech talents – startup founders, employees, or investor– to obtain a residence permit.
Speaking in English, he addressed the foreign attendees directly:
"France is an old country. A lot of you heard of the difficulties and flaws of our system. But we are at the beginning of a new area, a new wave, and this the country in which to invest. This is the place to be."

"Entrepreneur is the new France," he concluded.

---
Welcome to the New France!
Emmanuel Macron undoubtedly sets the bar very high for himself and for France. He promises to reconcile individual entrepreneurship and social solidarity, digital transformation and traditional industries, startups and large corporations. Is it too good to be true? Time will tell. But the President's own achievements, his own startup success, have silenced many critics and given to his supporters the confidence that everything is possible.
May optimism be the way. Welcome to the New France!
You may watch the speech (in French) here.
---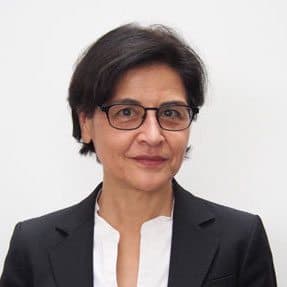 Therese Torris, PhD, is a Senior Contributing Editor to Crowdfund Insider. She is an entrepreneur and consultant in eFinance and eCommerce based in Paris. She has covered crowdfunding and P2P lending since the early days when Zopa was created in the United Kingdom. She was a director of research and consulting at Gartner Group Europe, Senior VP at Forrester Research and Content VP at Twenga. She publishes a French personal finance blog, Le Blog Finance Pratique.
---
Sponsored Links by DQ Promote