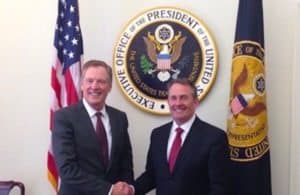 The US Trade Representative, Robert Lighthizer, met with the UK International Trade Secretary Dr. Liam Fox yesterday. This was the first visit between the two trade reps since the UK election.
According to the UK government, discussions included the possibility of a new trade arrangement between the two countries following Brexit. This is quite interesting as there has been a good amount of chatter inside the Beltway (DC) supporting the possibility of forging a stronger, bilateral relationship with the UK. If this moves forward, it may temper the talk emanating from Brussels of a hard Brexit.
Trade between the the UK and the US is already worth about $230 billion a year. The US is the single biggest source of inward investment into the UK, and together there is around $1 trillion invested in each other's economies. That is significant. There are many similarities between cultures as well. Both the UK and the US embrace an entrepreneurial culture of risk-taking and disruption, perhaps best exemplified in the UK by its leadership in Fintech innovation.
Dr. Fox commented on the bilateral meetings;
"Our valuable talks underlined the shared interest in forging a closer trade and economic relationship including making progress on policy coordination, regulatory issues and expanding trade and investment between our economies. As our largest single trading partner, we have a strong foundation to build on as we start preparation on joint work to explore a future ambitious trade agreement once the UK has left the EU."
Lighthizer welcomed Fox, expressing an interest to create a stronger relationship between the two countries including "exploring the possibility of a new U.S.-UK trade agreement."
Financial services are vital to both the US and the UK. It would be quite interesting to see a streamlining of the flow of capital and services between the two countries. This could clearly be mutually beneficial.