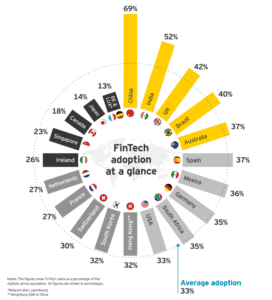 Here is another document that points to China's size, dominance and creativity when it comes to financial innovation.  EY has published the "Fintech Adoption Index 2017" that grades the various markets where EY operates so just about most of the developed world. When you think about the giant internet firms in China, and the ubiquity of mobile internet, it just makes sense that China leads the way.
The UK fares pretty well in the Index too. Perhaps they don't have the population of China but the country has proven itself quite apt at embracing financial innovation. Perhaps the big disappointment is the US of A as it is dead center of pack, according to EY.
This Index (EY started publishing these in 2015) shows that Fintech firms are at a "tipping point". Soon Fintech will be nothing new and all about the routine. At least in the markets that get it. EY explains;
"Consumers are drawn to Fintech services because propositions are simpler, more convenient, more transparent and more readily personalized. This has a ripple effect across the industry as consumers come to expect these characteristics in all financial products, regardless of whether in retail banking, wealth management or insurance, and of who is providing the service."
We very much agree.
[clickToTweet tweet="#Fintech has achieved initial mass adoption in most markets" quote="Fintech has achieved initial mass adoption in most markets"]
The Key trends for 2017, according to EY, are as follows:
Fintech has achieved initial mass adoption in most markets
New services and new players are driving higher adoption
Fintech users prefer using digital channels and technologies to manage their lives
Fintech adoption will continue to gain momentum
What does this all mean for financial services firms?
EY believes that "established financial services firms face both "unbundling" and "rebundling" of their propositions resulting in disruption of traditional customer relationships."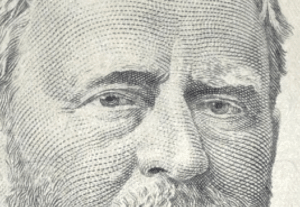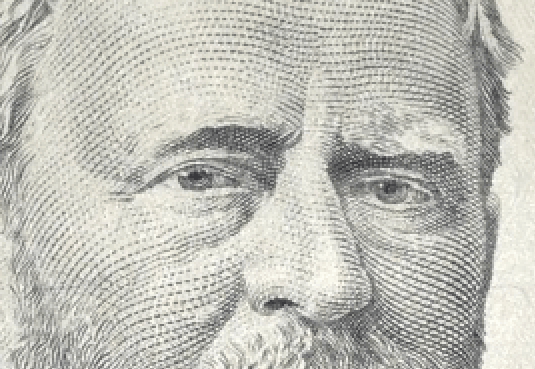 That does not sound very encouraging for traditional banks and old school financial services. But of course, hope springs eternal.
While there are profound opportunities for startups and entrepreneurs there are also possibilities for old finance to work with new, more agile firms.
Can big finance disrupt themselves?
Well, that is pretty tough to do. Once again, I will reference some sage words of Clayton Christensen;
"By doing what they must do to keep their margins strong and their stock price healthy, every company paves the way for its own disruption."
The report is below.
---
[scribd id=352098936 key=key-W2kjVqKSl2V8Bt3a9A06 mode=scroll]

Sponsored Links by DQ Promote