Spanish personal finance management app company, Fintonic, announced earlier this week that it has attracted €25 million through its Series B funding round, which included investments from ING Group and insurance group PSN.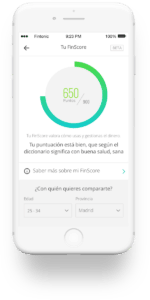 Founded in May 2012, Fintonic describes itself as mobile banking for the products that matter. The company noted it leverages big data financial information using proprietary credit scoring and machine algorithms to provide customers with an "unparalleled" financial experience and highly targeted loans, along with insurance products. It currently has 250,000 customers signed up for its services and in 2015, it was awarded by Google as the most innovative mobile banking app in Spain.
"Fintonic provides a unique access point for customers to all their financial information, organises outgoings into categories and alerts regarding insurance renewals, overdrafts, fees etc providing them with relevant tailored financial products such as loans (using proprietary credit scoring and maching learning algorithms) that users can contract straight through the app."
Funds from the Series B funding round will go towards the continuous development of its app and expansion. The company is currently operating in Spain and Chile.